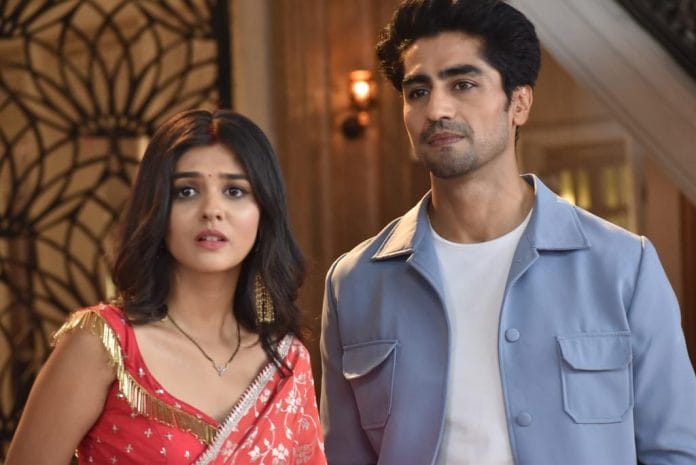 Yeh Rishta Kya Kehlata Hai 7th June 2022 Written Update on TellyExpress.com
In today's episode, Harsh asks Manjiri and Neil to get out from the house. Abhimanyu asks Harsh he deserves to go out. Harsh asks Abhimanyu not to interrupt. Anad asks Harsh and Abhimanyu to stop. He lashes out at point that Manjiri and Harsh both did wrong by hiding the truth. Anand says to Manjiri that how she can hide the truth. He feels betrayed. Abhimanyu asks Anand not to blame Manjiri. Anand says Harsh and Manjiri has made everyone fool. Abhimanyu try to side Manjiri. Anand asks Abhimanyu not to interrupt in between. Shefali gets a call from her office. Parth give a look to Shefali. Shefali switches off the mobile.
Anand asks Harsh and Manjiri to answer. Harsh leaves the place. Anand goes behind Harsh. Abhimanyu tries to talk with Neel. Neel asks Abhimanyu not to give him sympathy rather he needs an answer today. Akshara asks Neel to listen to Abhimanyu once. Neel says his questions need an answer. Anand and Mahima go behind Harsh. Harsh says to Anand and Mahima if they are at his place to give him lecture than he is not interested.
Neel asks Manjiri why she has hidden the truth with him. He question Manjiri for not revealing his true identity to him. Neel asks Manjiri why she didn't adopt him with his identity. Abhimanyu side Manjiri. Neel says to Manjiri that she snatched his identity. Abhimanyu says to Neel that everyone love him. Neel says their love seems sympathy now. Anand and Mahima ask Harsh to do something and fix the mess.
Abhimanyu says to Neel that nothing has been changed post the truth. Neel says to Abhimanyu that he has always disrespected Harsh but in return he has given love to him. He adds since his childhood he craved for father love but he never got. Neel claim Harsh always love Abhimanyu. He walked away. Parth and Shefali go behind Neel. Manjiri stares at Akshara.
Mahima cries thinking Harsh and Manjiri betrayed everyone with their lie. Anand console Mahima. Abhimanyu asks Manjiri why she is looking at Akshara. Manjiri accuses Akshara for giving file to Neel. Akshara tries to explain herself. Manjiri says to Akshara that she won't be able to forgive her for ruining her family happiness. Akshara tries to speak but Manjiri and Abhimanyu walk away. Akshara stand teary.
Arohi informs Goenka's that Neel is Harsh's illegitimate child. She told to Goenka's that Akshara disclosed the truth to Birla's. Manish and others stand shocked. Abhimanyu learns that Akshara collected the DNA file. He accused Akshara for bringing trouble at Birla house. Akshara cries thinking how she will prove her innocence. Abhimanyu learns from Parth that Neel is missing. [Episode Ends]
Precap: Neel about to meet with an accident. Abhimanyu and Akshara looks for Neel
Also See: