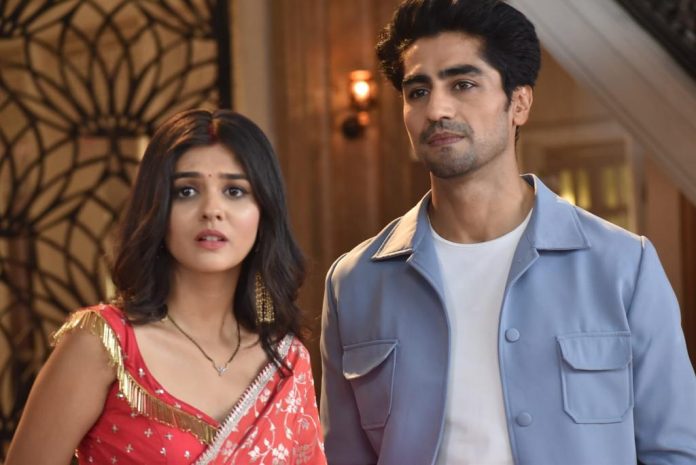 Yeh Rishta Kya Kehlata Hai 8th June 2022 Written Update on TellyExpress.com
In today's episode, Abhimanyu rushes to search for Neel. Akshara decide to accompany Abhimanyu. Abhimanyu refuse to take Akshara take along. Akshara says to Abhimanyu that she is not at mistake. Abhimanyu says to Akshara that she is not responsible for what Harsh, Manjiri did but what all happened today is because of her. Akshara cries. Abhimanyu asks Akshara to get down the bike ;[It was Abhimanyu's dream]
Akshara worry for Neel. Manjiri share with Mahima that she lost Neel. She shares with Mahima that Neel will not talk to her. She add when he was kid he never left her hand until fell asleep. Mahima console Manjiri. Manjiri says Neel will never talk with her ever. Mahima asks Manjiri not to worry as everything will be fixed soon. Abhimanyu looks for Neel. He recalls his moment with Neel. Akshara tries to reach Neel. Neel recalls Harsh's denial. He gets trapped in a net. Akshara asks Manjiri not to worry as Neel will be back soon. Manjiri says to Mahima that she has seen hatred for her in Neel's eye. She says he will not understand her ever. Akshara tries to pacify Manjiri. Mahima asks Akshara to stay away. She asks can't she see Manjiri is worried.
Abhimanyu looks for Neel. Neel walks down the road angrily. Abhimanyu screams Neel's name. Harsh learns Neel is not at home. He gets restless. Akshara prays Abhimanyu finds Neel. Neel tries to end his life. Arohi saves Neel. She informs Akshara that Neel is at Goenka house. Akshara runs to meet Neel.
Parth gets restless thinking about Neel. He shares with Shefali that amid three of them Neel is very emotional. He adds they have always considered Neel as their brother. Parth worries if anything will happen to Neel. Shefali asks Parth to stay strong. She asks Parth to find Neel instead of worrying about him. Parth looks for Neel.
Akshara sees Neel at Goenka house. Arohi recalls saving Neel at the nick of the time. She gets happy thinking drama already happened at Birla house. Akshara tries to feed food to Neel. Arohi asks Akshara not to force Neel if he doesn't want to eat. Neel accuses Akshara for revealing the truth. Akshara tries to explain herself. Neel asks Akshara not to do the drama. Manish and Swarna recall Shubham. They worry thinking if history is repeating. Manish says to Swarna misunderstanding should be cleared soon. Swarna says Neel is hurt and no one can understand him. Akshara tries to convince Neel to come back home. Neel ignores Akshara's request. Abhimanyu comes. Akshara and Abhimanyu have a soul talk. Abhimanyu gets angry on Akshara for not telling that Neel is at Goenka house. Mahima comes too and asks Abhimanyu to take Neel along. Neel refuses to go back to Birla house. [Episode Ends]
Precap: Manjiri asks for Neel. Media gathers at Birla house. Abhimanyu decide to tell the truth to Media. Akshara tries to stop Abhimanyu
Also See: