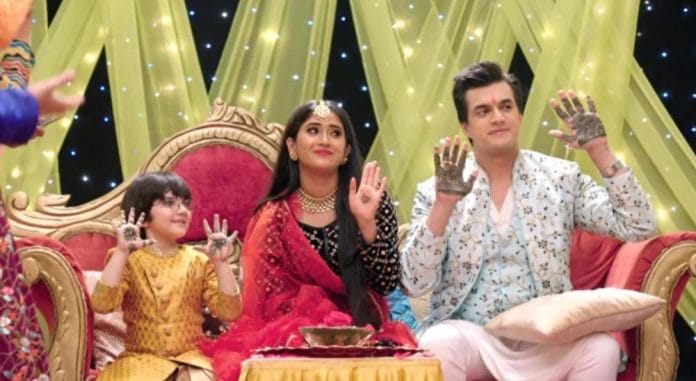 Today's episode starts with Suhasini calling out Kartik's name and ask him to hurry up, as they have to pick Vedika from Naira's house and have to leave for court. There, Naira and Naskh goes to Vedika's room and see her sleeping. Naira says she is feeling bad for Vedika and asks Naksh to let her sleep for the while. There, Kartik gets excited to meet Naira and Suhasini gains the cramps. Manish and others ask Suhasini to stay back, as Kartik alone can go to the court. Suhasini tells to Kartik to remember only one thing that his marriage with Naira can only happen after his divorce with Vedika. Kartik ask her not to worry.
Kartik reaches with Gayatri and Vansh at Naira's place and Kairav ask him why he is here so early. Kartik says to Kairav that he is here to meet him and other. He looks for Naira and Naira hides herself thinking she is looking untidy and Kartik is looking good. Thus, she can't go in front of Kartik.
Ahead, Devyani and Gayu go to wake up Vedika. Vedika tells to them that she will get ready soon. Other side, Kartik looks for Naira and prays to God to help him. He finds Naira and the duo shares a moment of love together. Kartik and Naira hugs each other tightly.
Afterwards, Vedika comes and gets ready to go to the court. Naksh ask Vedika if she has kept all the important documents. Vedika says yes. There, Suhasini instructs everyone to get ready fast, as time is flying. Manish and Suwarna worries for Kartik and Vedika.
Other side, Vedika drops the document on the road before leaving. Devyani ask Naira to get ready for the function. Naira says she will get ready once Kartik will call her. Gayu ask Naira not to worry much, as everything will be fine. Later, wind blows and Naira gets shocked seeing the important document lying on the floor. (Episode Ends)
Precap: Naira follows Kartik to give him the car. A mishap happened after they met outside the dargah.