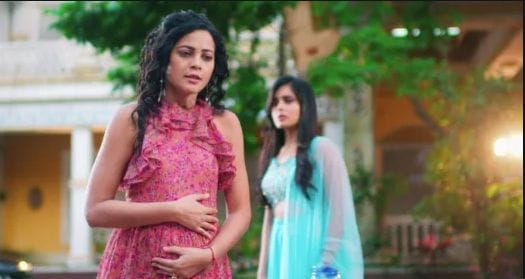 Yeh Rishtey Hain Pyaar Ke 10th October 2020 Written Update on TellyExpress.com
Today's episode starts with Abir giving buket list card to Kunal. They relive their childhood. Abir laughs. Kunal asks Abir not to leave. Abir says he too don't want to go but to keep the love alive they have to get separated. He suggests Kunal to go somewhere along with Kuhu and Parul. He says he already saw he gained nothing staying with Meenakshi. Parul over hears the duo talk and stands shocked.
Meenakshi asks lawyer why he wasn't receiving the call. Parul claps from behind. She gives earful to Meenakshi and says house is on the verge to break. Her family is breaking but she is after money and property. Parul urges Meenakshi to bring Kunal and Abir closer. Meeanskhi asks Parul to go away.
Later, Mishti prays to God to help her in her mission. Parul cries in front of Mishti. Mishti discloses her plan and says fear of losing sons will make Meenakshi understand that she is doing wrong. Parul gets relax hearing Mishti. She blesses her.
There, Kuhu asks Abir not to leave Kunal and go. Abir says it's Mishti's decision. He asks Kuhu if she is so concerned about Kunal than why she didn't return with them. Kuhu says she wanted to but Varsha don't let her. Late that night; Abir, Mishti, Kunal and Meenakshi has a sleepless night.
Kuhu message to Kunal that read: she tries to convince Abir not to go. But he didn't listen to her. Family picture about to fall and Abir and Kunal gives support to the picture. Meenakshi and Mishti get teary.
In the morning, Mishti counts the boxes and asks to keep in the car. Abir comes to Mishti and asks her if she is sure. Mishti asks Abir to trust her. Nidhi cries and asks Mishti not to leave. Kunal gives his jacket to Abir so that ever he miss him can see that jacket. Nidhi asks Kunal to stop Mishti and Abir.
Mishti asks Abir to come along. Nidhi says without meeting Meenakshi they can't go. Meeanakshi comes and announced that if Mishbir will leave the house than she won't allow Kunal, Kuhu and Parul to stay back at the house too. Mishti agrees. She asks Meenakshi to throw Kunal and Parul too. Kunal agrees to leave the house too. Meenakshi again asks Mishti what she wants in return to stay back at the house. She asks to choose money or property. Mishti says she just wants to leave the house. Abir and Mishti meet Nidhi, Kunal and Parul. They about to leave. Nidhi asks Meenakshi to stop them. (Episode Ends)
Precap: Abir says Meenakshi is still doing drama to bind them together.