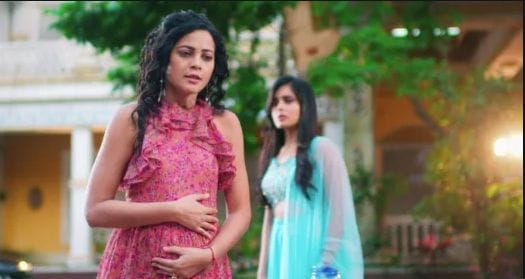 Yeh Rishtey Hain Pyaar Ke 13th October 2020 Written Update on TellyExpress.com
Today's episode starts with Jasmeet and Varsha discussing about Mishti. Jasmeet says Mishti never took care of Kuhu and was celebrating in her absence. Varsha says Abir and Mishti is not wrong. She says even Kunal is not wrong but for him Abir is priority thus she don't want Kuhu to return back. Kuhu comes and tries to convince Varsha and Jasmeet that she loves Kunal a lot and can't stay separated from him. She does the drama of her health. Varsha and Jasmeet go to bring water for her. Kuhu takes her mobile in the meantime.
There, Nidhi gets delighted seeing the lunch. Kunal decides to bring Abir. He finds him nowhere. Abir message Mishti that he is not hungry and will have food later. Kunal asks Meenakshi to feed him and Mishti. Meenakshi says she knows Abir is angry with her but not she will prove him that she has changes for better. Ahead, Mishti informs Abir that she along with Meenakshi and Kunal is going to bring back Kuhu. Abir gets surprised that Meenakshi too is going to bring back Kuhu.
In the meantime, Kuhu from Jasmeet's mobile call Nidhi and wants to know about Kunal. Nidhi's voice doesn't reach her. Varsha learned that Kuhu called Nidhi. Later, Meenakshi, Mishti and Kunal come to take Kuhu. Varsha tells them that Kuhu has left the house because she stopped her from meeting Kunal.
Mishti decides to look for Kuhu. Meenakshi apologize to Varsha for her previous behavior. Kunal says to Varsha it is fine if she don't want to excuse her. Meanwhile, Varsha tells to Mishti, Meenakshi and Kunal that Kuhu returned back to Rajvansh house. Three of them set happy. Here, Parul shows Nishi the dresses she made for Mishbir's baby. Nidhi says clothes are of old fashion. Abir comes and likes the dresses.
Other side, Kuhu's car stops at the mid of the road. She relaxes on the bench out there and her health worsens. Kuhu asks baby not to worry as she will not let her happen anything.
Here, Mishti, Kunal and Meenakshi comes back home and asks for Kuhu. Abir, Parul and Nidhi say she is not here. They decodes Kuhu is missing. Abir asks Kunal to track Kuhu's mobile. Kunal goes to search Kuhu. (Episode Ends)
Precap: Kunal fails to meet Kuhu.