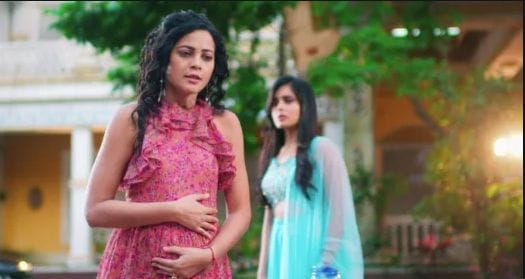 Yeh Rishtey Hain Pyaar Ke 14th October 2020 Written Update on TellyExpress.com
Today's episode starts with Kuhu saying to baby she will reach home safely. She thinks someone might come looking for her. She tries to take lift but none helps her. Kuhu decides to walk home alone. Here, Kunal worries for Kuhu. He sees and Kuhu's broken mobile and car. Kunal informs Abir about the same. Abir asks Kunal not to panic as they will find Kuhu. Parul prays to God to send Kuhu home safely.
Meenakshi asks inspector to start searching Kuhu. Mishti suggests Abir to inform at NGO so that they too can help them in finding Kuhu. Abir likes the idea. In the meantime, Kuhu reaches home safely but falls unconscious. Nidhi informs Varsha that Kuhu is missing. Abir asks Nidhi why she is troubling them. Mishti takes the mobile and assures Varsha that they find Kuhu soon. Varsha cries for Kuhu.
Kuhu gains little consciousness and thinks she is here and none is aware. She calls Kunal but Kunal walks inside the house. Other side, Parul and Meenakshi prays in front of God. Nidhi panics seeing diya has blown off. Meenakshi says nothing happened. She tried to light the diya again, it gets blown-off. Abir, Mishti and others help Meenakshi to light the diya.
Rajvansh's pray for Kuhu. Lord Krishna's feather blows away and Mishti sees Kuhu. Abir, Kunal and others rush Kuhu to the hospital. Doctor informs Kuhu is not well and they might have to do pre-mature delivery of Kuhu.
Abir goes to Mishti and asks if she is fine. Mishti asks Abir if he is fine. Both see Varsha and Meenakshi together. Varsha worries for Kuhu and gives earful to Meenakshi. She accuses Meenakshi for always worrying for her heir and not for Kuhu. Meenakshi apologizes to Varsha. Mishti offers water to them. Varsha gives Meenakshi water.
Ahead, Abir shows dress he made by himself for the baby. Mishti hugs Abir. Kunal watches video of Kuhu. Mishti and Abir console Kunal. Kunal says to Mishti, Kuhu always wanted to win her and today she won. Mishti says Kuhu was always best.
Further, doctor informs the family that amid Kuhu and baby only one will be able to survive. Abir, Mishti, Kunal and others stand shocked. (Episode Ends)
Precap: Kuhu is operated.