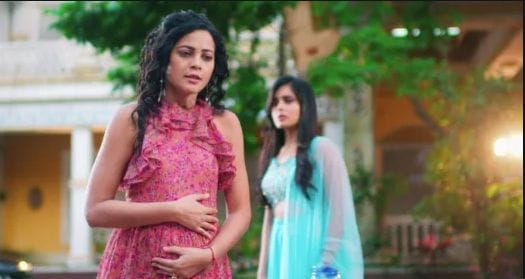 Yeh Rishtey Hain Pyaar Ke 16th October 2020 Written Update on TellyExpress.com
Today's episode starts with Kuhu is welcomes by Rajvansh's. Kuhu thanks family for supporting her. She gets mesmerized seeing the love. Varsha thanks Mishti for her support. Meenakshi promise to Varsha that from now she will equally love Mishti and Kuhu. Parul asks Mishti if Abir calls her or not. Mishti worries for baby. Parul console her and says baby already untied the family and now nothing will happen to him. Mishit says they should click a family selfie and send to Abir.
Later that day, Mishti dreams of spending time with baby and Abir. Back to reality; Abir calls Mishti. He asks if she saw the same dream. Mishti says yes. She wishes to see the baby and says during pregnancy also she was not with him and now she can't wait more. Mishti further asks Abir to have food and think if he will come to know that Meenakshi has prepared the food than he will not eat. Abir eats the food and recognizes that it is prepared by Meenakshi.
In the morning, Mishti prays to God to heal her baby soon. She gets a call from Abir and rushes to the hospital. Mishti learns that baby is not well. Rajvansh's worries for baby and Mishbir. Later, Abir and Mishti brings baby home. Everyone gets happy.
Abir asks everyone to meet baby. Meenakshi asks Parul if the baby is her own grandchild. Parul says yes. Abir don't let Meenakshi meet the baby. Meenakshi is left alone. Mishti feels bad for Meenakshi. She further desires that Meenakshi do baby's aarti. Abir behaves cold towards Meenakshi. Meenakshi gets teary.
Ahead, Mishbir shares a quality time with baby. Mishti decides to settle the scores between Abir and Meenakshi. Kuhu decides to keep a party for baby. Jasmeet suggests for dandiya night. Everyone agrees with her.
Mishti, Kuhu and everyone gets ready to celebrate the function. Mishti tells that Meenakshi has donated in the NGO. Abir stills don't react. Mishti prays to God to unite Meenakshi and Abir too. Kunal tries to interrupt. Abir says to him that he is happy after ages and asks him not to ruin his happiness. Kuhu asks Abir to be with her then. (Episode Ends)
Precap: Meenakshi gets injured while saying baby. Abir worries for Meenakshi.