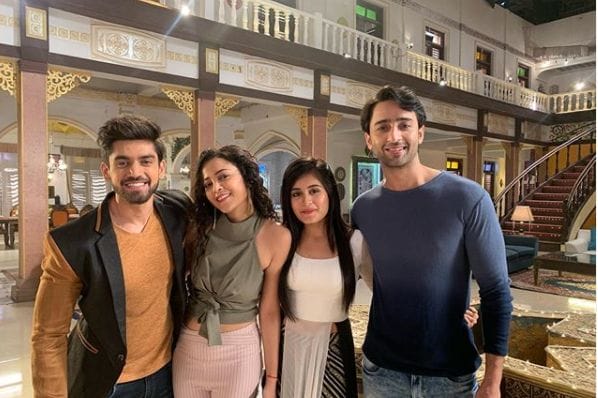 Yeh Rishtey Hain Pyaar Ke 17th October 2020 Written Update on TellyExpress.com
Today's episode starts with Kunal trying to help Kuhu in wearing her dress. He gets romantic with her. Kuhu blush away. Kunal and Kuhu decides upon baby's name. Kunal asks to call baby 'Kunal'. Kuhu says one ladako chokro is enough. Kunal says he don't fight a lot. He then realizes he accepted he is ladako. Duo laughs. There, Mishti spends time with baby. Abir asks Mishti to get ready. Abir talks with baby and decides his name. Mishti comes and Abir gets smitten seeing him.
Abir and Mishti gets romantic and baby cries. Abir says now baby is here to put break on their romance. Mishbir laughs. There, Ketki and Kaushal come for the dandiya night. Nidhi gets happy. Ketki asks for baby. Mihsbir bring baby down. Mishti prays to Goddess Durga to unite Abir and Meenakshi today.
Ahead, Kuhu and Kunal give gift to baby. Abir gets happy. Kuhu than tells Meenakshi made dandiya special for baby. Abir leaves the place. Mishti says to Meenakshi it is beautiful. Later, Rajvansh do dandiya. Kuhu drags Abir. Mishti stays with baby. Kuhu says to Abir that he don't have dandiya partner. Meenakshi stays far and gets teary. Kuhu suggests Abir to dance with Meenakshi. Abir leaves the place.
Further, Meenakshi sees chandelier falling. She saves baby and Mishti. Abir and others worries for Meenakshi. Doctor checks Meenakshi and asks family not to panic. Meenakshi gets the conscious. She asks for baby and Mishti. Kuhu tells her that they both are fine.
Here, Kunal, Parul and Mishti try to make Abir understand to accept Meenakshi. They try to convince her. Abir refuses to listen to any. There, Meenakshi says it's her Karma that Abir don't come to see her.
Late that night, Abir along with baby goes to check Meenakshi. He sees her from far. In the morning, Nanu comes and everyone gets happy. Nanu asks for Meenakshi. Meenakshi gets teary while meating Nanu. Ahead, Nanu gives baby to Kuhu. Mishti asks Kuhu if she has decided baby's name or not.
Kuhu says yes and calls him 'AMISH'. Abir decodes name is kept by Meenakshi. Abir asks Meenakshi to keep baby's name and give baby to her. Meenakshi calls her 'AMISH'. Abir and Meenakshi reunites. Final episode of Yeh Rishtey Hain Pyaar Ke ends with Rajvansh's taking group picture. Abir stands with Meenakshi.