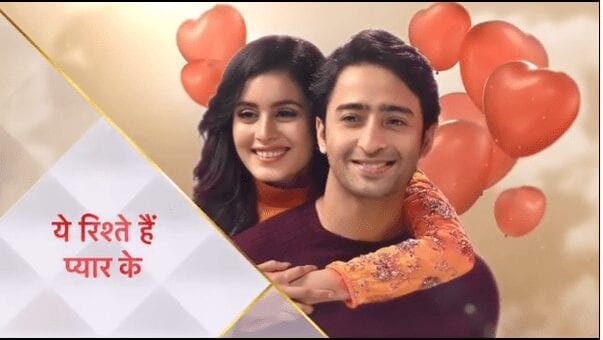 Yeh Rishtey Hain Pyaar Ke 1st April 2020 Written Update on Tellyexpress.com
Episode begins with Mishti thinks she thought for Kunal only business matters but after spending time with him she realized that his family matters him most and she is also going to be a part of his family so he will care for her too in future. Abir decides to tell his feelings to Mishti.
Abir sees the balloons and recalls Mishti and gets the balloons. He smiles seeing Mishti and says its all signs of telling his feelings. Mishti smiles and goes to meet Kunal. Abir stops seeing Kunal. Mishti thanks Kunal for saving her. Kunal says he learnt that she was inside and they had to save her. Abir turns away. Kunal says he will drop her home. Mishti sees Abir. Kunal says how can Abir be here.
Mishti says that's Abir, he has balloons in his hand. She goes to Abir. Abir turns to them and smiles. Kunal asks what Abir doing here. Abir says Kunal told him to get balloons for Mishti. Kunal says yes and thanks him for balloons. Abir thinks its hard to smile in pain. Mishti asks Abir to come along. Kunal says yes.
Rajshri praises Kunal for saving Mishti and says they thought to do tilak rasam. Kunal says yes, at least people's taunts will end and asks them to decide the date. Rajshri says Kunal saved Mishti from fire and now from people's taunts. Parul thinks why is Meenakshi silent. Meenakshi says when everything is ready, why to delay things, they will keep rasam tomorrow. She says she want to know Mishti's wish, when everything is happening by her wish.
Mishti says there is no reason to refuse and says its yes from her side too. Abir gets shocked. Everyone smiles. Abir leaves from there. Abir gifts new specs to Mishti. Mishti feels happy seeing that. Mishti calls Naira and says her life moving fastly and she is not understanding what to do. Naira suggests her to stay calm.
Kunal takes Mishti to hospital for her eye surgery. He says he got her here for her surgery, then she doesn't need to wear specs. Mishti asks why surgery? Nanu asks Abir to go and get water for him. Abir goes. Nanu asks nurse about the eye specialist. Nurse guides him. Abir gets water and says he will ask about doctor. Nanu says he know about his doctor. Abir takes him. Kunal asks is there any problem with surgery. Mishti says no, but she like specs.
Kunal says but he don't like it because specs don't look good, and he is MD of a company,she is going to become his wife, she will travel with him and will attend award functions, she have to give speech and interviews with media. Nanu asks Abir to check inside if doctor is there. He thinks he will see what Abir will do now, knowing Kunal and Mishti aren't right for each other. Kunal throws Mishti's specs.
Abir catches the specs and asks what surgery? Nanu looks on. Abir says specs isn't a problem. Kunal says they thought . Abir asks Mishti does she think the same. Kunal says he suggested and Mishti agreed. Abir asks Mishti to say something and says he doesn't think that Mishti wants to get surgery done. Kunal says she can refuse to him and asks Mishti did she call Abir, doesn't she trust him. Abir says its not about trust.
Kunal says its only about trust. Mishti says she didn't called Abir. She asks Abir why did he come here, its her eyes and surgery. Abir gets sad and says she is right and he have nothing to do with this. He goes. Nanu looks on. Mishti tries to tell Kunal that she didn't did her eye surgery. Kunal asks Mishti did surgery or not. Mishti says she did no surgery. Kunal gets angry.
Episode ends.
Click to read: