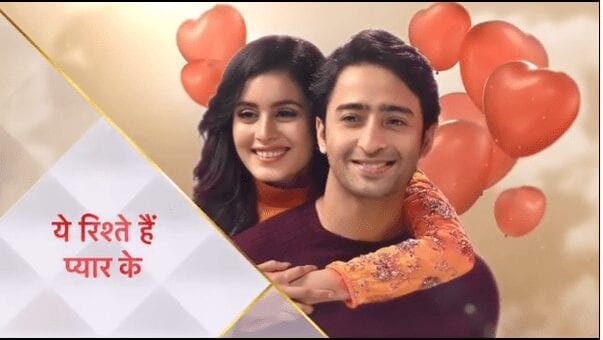 Yeh Rishtey Hain Pyaar Ke 26th March 2020 Written Update on Tellyexpress.com
Today's Written update will be updated soon.
Yeh Rishtey Hain Pyaar Ke 25th March 2020 Written Update: ABIR LEAVES MISHTI ALONE AFTER THEIR ARGUMENT
The episode starts with Jasmeet instigating Kuhu more against Mishti. Kuhu says that the problem is that Meenakshi got very upset since Kunal announced that Parul is his real mother and he wants him to work the whole day while Mishti would just enjoy. She calls Mishti cheap. Jasmeet agrees that Mishti is cheap since childhood. Varsha comes and asks Jasmeet if Meenakshi is very upset. Jasmeet blames Mishti for asking Kunal to accept Parul as his mother in front of everyone and trapped Kuhu in all this.
Abir comes to talk with Mishti who says that she has already decided that she won't go anywhere. Abir asks her to look at him while talking since he is not Kuhu. Mishti says that she knows he is not Kuhu but she is not going to defend herself if he is there to accuse her for talking with Meenakshi secretly like Kuhu did.
Abir says that he trusts her but she has talked to Meenakshi and things went out of control. Mishti says that she only knows that Kuhu just blames her and fights with her every time Meanwhile Kunal says to Kuhu that she can't talk to his brother the way she did. Kuhu says that she said nothing to Abir but Mishti only.

Kunal says that husband and wife are one only and she said a lot of things which he is not going to tolerate. He tells her that he is going and won't even ask her to come with him. He leaves.
Also, Read :-
Abir asks Mishti if he shall let Kunal leave alone. Mishti says no but Kuhu can't always insult her and be always right. Abir asks her if he shall not support his brother then. Mishti says that it is not about Kunal but Kuhu who has to understand that they can't always tolerate her childishness. She complains about Kuhu's behavior and suggests Abir to go to talk her. Abir says that they need to stop fighting.
Mishti says that Kuhu would have never talked this way if he had scolded her for mixing pills in his coffee. Abir says that he doesn't even want to talk about fighting. Mishti asks him if he means to say that she is fighting. Abir says that he is saying all this to her is because she is mature. Mishti says that being mature has become a punishment apparently. Abir shocks Mishti saying that she is sounding like Meenakshi who always wants to be right. Mishti says that she is unable to understand him.
Abir asks her to trust him. Mishti asks him to trust her or else Kuhu might create misunderstandings between him and Kunal. Abir says that it is not possible since his equation with Kunal is not as messed up as hers and Kuhu's. Mishti decides that she won't go back home and doesn't listen to Abir.The next morning Jasmeet is trying to call Nidhi to find out what is happening at Rajvansh house.

Nidhi comes to Meenakshi and asks her not to worry since they will always be together. Meenakshi asks her to leave her alone. Nidhi apologizes but adds that she was very right to tell all that to Parul who eats her hardwork fruits for free. She says that Kunal did wrong too. Meenakshi asks her to leave.

Jasmeet and Varsha hears everything. Varsha says that she has to talk with Kunal as soon as possible.On the other hand Kuhu tells Kunal that she wasn't willing to talk like that but she gets tensed for him. Kunal asks why. Kuhu says that he handles such a big company himself.
Kunal says that it's his choice and he likes that. Kuhu says that Abir and Mishti can come with them at least. Kunal says that Abir has already done a lot for him and asks her not to talk about this again. He says that they shall let Mishti and Abir have their privacy.
Abir comes and says that he will come with them. Kunal asks him about Mishti since they can't leave her alone. Abir says that Mishti is willingly staying there. The three leave in car. Mishti comes out and asks guard if a car has just left. The guard says yes and tells her that there were three people in it. Mishti gets sad.
Abir is driving. Sad version of title track plays. He switches off his phone. He recalls his last night argument with Mishti.
Mishtu is in the resort and tries calling Abir but in vain. She cries. Abir stops the car and goes out. Kunal comes out too. A couple asks Abir to click their picture.

Kuhu apologizes to Abir on Mishti's behalf and says that he can talk to Mishti if he wants. Abir asks her what she is going to say. Kuhu says that Mishti is not even going to accept her mistake though. Abir asks her if she accepts her mistakes. Kuhu says that she didn't call Meenakshi. Kunal tells her that not even Mishti called Meenakshi, she had called Ketki. Kuhu asks him why Mishti told that only to him. Kunal reminds her that Mishti tried telling her too but she had asked her to shut up.
Abir tells Kuhu that they did all this so that her and Mishti's fights stop. Kuhu says that she wanted all of them to have fun together too. Abir says that for her fun means insulting Mishti. He says that she won't accept her mistake so he apologizes on his and Mishti's behalf. He leaves. Kunal asks Kuhu not to say anything more and leaves to talk with Abir.
Mishti has called Rajshri who feels that there is something wrong with her. She understands that she is sad and asks Mishti to tell her if she argued with Abir.
Kunal sits near Abir and says that he thought he was mature. He says that he should sort out all problems and not leave like this. He asks Abir if he has realized that he is teaching him. Abir says that he is right and he is feeling had for having talked with Kuhu like this. Kunal says that it's ok and apologizes on Kuhu's behalf. He makes Abir understand and asks him to go and get Mishti back.
Meanwhile Rajshri tells Mishti that fights reveal each other's weaknesses and likes and dislikes. Mishti tells her that she and Kuhu are so different from Kunal and Abir and this is the reason of today's fight too. Rajshri says that the reason doesn't matter but they shall use this fight to learn that when they are angry they should listen to the other. She suggests Mishti to go and talk to Abir who will surely understand her. Mishti says that he will and cuts the call saying to Rajshri that she loves her.
Later Abir is seen trying to call Mishti but his phone gets switched off. He takes someone else's phone. Mishti is trying to call him too and thinks that Abir is so upset with her that he doesn't even want to talk with her so he has switched off the mobile. She cries saying that she needs Abir. (Episode ends)
No Precap