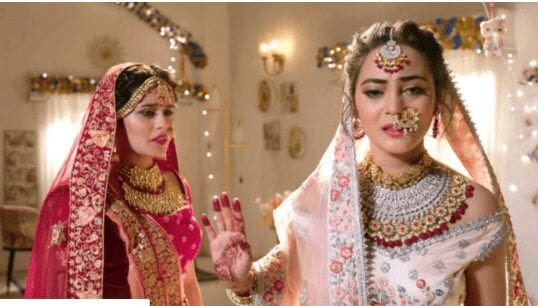 The episode starts with Doctor asking Mishti and Jugnu what Abir ate last night. Jugnu says that he had cold coffee like everybody. Doctor asks if something was mixed in Abir's coffee. Mishti denies that since everyone had the same coffee and nobody came from outside. She asks doctor to make Abir fine as soon as possible because they have to go to the temple. Doctor says that he has to get Abir's blood sample first to do the test and know what he had. Mishti thinks to inform Meenakshi. Abir starts getting consciousness.
On the other hand Meenakshi looks at Kuhu and thinks that Kuhu and Mishti's reality will come in front of both the families when the two will fight and everybody will understand that she was right and these two aren't good for her sons.
Kuhu calls Kunal and asks him to come back to help her. Kunal says that he has come home to check if Abir is there so he will come back immediately after checking.
Jugnu sees Kunal and hides the doctor. He goes to Kunal and tells him that Abir isn't home since he is gone to get a special garland for Shiv Ji. Kunal asks Jugnu to ask Abir to call him once he comes back home. Kunal leaves.
Jugnu apologizes to doctor who tells him that he will mail the report to Mishti and then leaves. Mishti asks Jugnu to call an auto. She is holding an half conscious Abir.
Meanwhile Jasmeet says that Mishti must have trapped Abir somewhere. Meenakshi says that Mishti has arranged all the decoration for the pooja so why she should make Abir late. Jasmeet taunts Mishti. Meenakshi says that it is impossible that Abir got late because of Mishti. Rajshri and Varsha come and ask what happened. Meenakshi tells her that Jasmeet is saying that Mishti is making pooja late for the pooja intentionally. Jasmeet says that she had heard Mishti talking to her friend about a party on phone. Meenakshi says that even if Abir and Mishti went to the party last night, Abir must have waken up early. Jasmeet says that Mishti might have drunk. Pandit Ji hears that. Rajshri says that Mishti doesn't even touch alcohol. Meenakshi tells him that Abir doesn't drink too and asks Rajshri to make Jasmeet understand that. She thinks that half of the job is done and half will be done when Mishti will come there not walking properly.
Mishti makes Abir sit on bed. He hugs her and asks her if he is charming. She asks him to look at himself. He says that he has looked at himself in her eyes. She says that his jokes are sleepy too like him and then asks him if he drank or ate something after cold coffee. He says that he had a tablespoon of Mishti. She asks him to stop it since they are getting late for the pooja. Abir pulls her closer and says that he loves her. She asks him to let her get ready and goes in front of mirror. Mishti asks him if he has thought what to tell everyone once they reach the temple. Abir says that he isn't able to think anything when she is in front of him. He tries tying her mangalsutra but is not able to stand properly. He tries filling her maang with sindoor but falls into her arms.
Meenakshi asks Kunal to go to check where Abir is since Abhishek time is coming and Abir has to do it.
Mishti and Abir sit in the auto rikshaw. Jugnu tells Mishti that he told Kunal that they went to get a special garland. Mishti says he should have told the truth to Kunal since he could have helped. She asks Jugnu to ask Kunal to call her if he calls him.
Varsha asks Meenakshi if they couldn't contact Abir yet. Meenakshi says no and asks Kunal to go to check. Kuhu says that Kaushal can go but Meenakshi wants Kunal to go. Kunal leaves.
Abir and Mishti are in the auto. Mishti asks Abir how he is feeling. He says that there is magic in her voice and places his head on her shoulder. Mishti wonders how this happened.
On the other hand Parul says that thankfully Kuhu completed decoration work. Varsha tells Pandit Ji not to worry since Kunal must be coming with Abir and Mishti and pooja will happen on time only. Jasmeet says that she is guessing only but actually Abir and Mishti haven't called yet. Nidhi says that they can't do pooja without them. Jasmeet says that all the arrangements were done by Kuhu so she should do the aarti.
Mishti tells Abir that she will tell everyone that she have him a pain killer which made him sleepy. He says that she should say that she did magic on him. Mishti says that she would have made a video of him if she hadn't switched off her mobile out of fear. She asks him to sleep and thinks that once the pooja is done she will have to find out who did this with Abir. She thinks to switch on the mobile.
Rajshri says that Abir does the pooja every year. Jasmeet says that he hasn't come yet. Vishambharnat asks her to stop being stubborn since they are guests there. Nanu says that they are family and Jasmeet is right: Kuhu and Kunal can do the pooja. Meenakshi suggests to wait five minutes more since Abir is her son and will do the pooja. Rajshri says that if he doesn't come then her younger son can do the pooja too. Nanu agrees.
Abir and Mishti reach the temple and come out of auto. Abir says that he has headache. Mishti supports him and helps him walking.
Meenakshi insists to wait. Varsha asks Rajshri if Meenakshi doesn't want Kuhu to do the pooja. Rajshri asks her not to think like this. Everybody tries convincing Meenakshi to let Kuhu and Kunal do the pooja. Meenakshi thinks that she will never forgive Kuhu and Mishti if Abir doesn't do the pooja.
Abir tells Mishti that he knows everything will be fine until she is with him. He says he doesn't know what happened to him but they will find it out. He is about to fall but Mishti holds him.
Kunal and Kuhu are about to do the aarti when Kunal sees Abir and Mishti coming. Everybody goes to them. Mishti asks Abir not to leave ber hand. Meenakshi asks them why they were late. Mishti tells that she gave Abir a pain killer. Pandit Ji asks them if one of them had alcohol because in this case they can't do the pooja. Mishti recalls doctor saying that he is afraid Abir had some alcohol and thinks that she cannot lie. Rajshri says that none of them drink. Mishti pretends that her head is spinning and apologizes for being late because of her. She asks Pandit Ji to start the aarti while they will sit there only and asks Kunal to do the aarti.
After a while Mishti makes Abir sit and apologizes because the pooja was his right. She says she will find out what happened to him. She calls the doctor and asks him to send the report.
Meenakshi wonders why Abir didn't say a word. Kuhu is afraid that Mishti understood there was something mixed in the coffee. Meenakshi thinks that Abir couldn't do the aarti and Kuhu and Mishti didn't argue too. Kunal and Kuhu do the aarti.
Abir apologizes to Mishti for not being able to participate in the aarti because of him. He suggests to distribute prasad to poor people. They do that and are content. Abir feels headache. Mishti asks him if he had anything after cold coffee. He says that he had only cold coffee. Mishti wonders if Kuhu did something but then thinks that she cannot do anything with Abir. The latter feels his head heavy so Mishti makes him sit and goes to get water for him.
Meenakshi takes Kuhu on side and asks her if Mishti was intentionally stopping Abir from doing the aarti. Kuhu refuses to give any answer on Mishti's behalf. Mishti overhears their conversation. Meenakshi says that Abir skipped the pooja for the first time and she is upset because of that. She asks Kuhu if Mishti had drunk last night since both Mishti and Abir didn't reply when Pandit Ji asked them if they had alcohol. Kuhu replies that Mishti only does whatever she wants only, she doesn't know why they were late since Mishti didn't tell her anything. Meenakshi leaves.
Mishti wonders if Kuhu did all this since she has always badmouthed about her.
Episode ends
Precap: Kunal tells Kuhu that he won't spare whoever is behind Abir's condition. Meenakshi asks Kuhu and Mishti to tell the truth. Kuhu blames Mishti who blames her for mixing sleeping pills in Abir's coffee. Meenakshi says that Abir is unconscious because of them and asks why she should keep such daughter-in-law in her house.