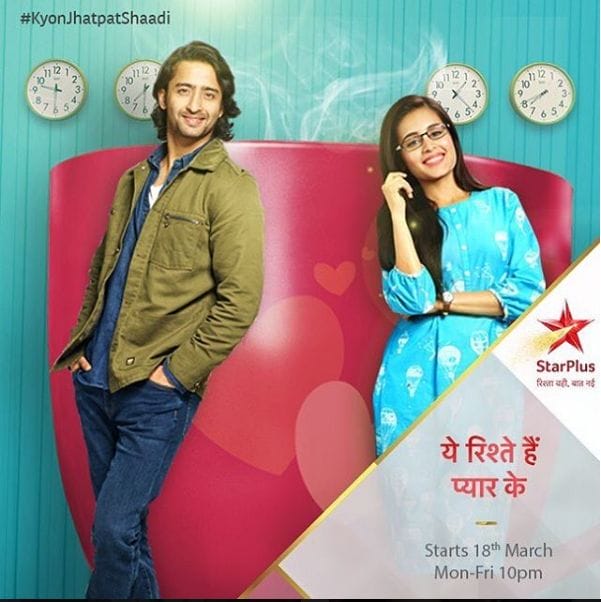 Yeh Rishtey Hain Pyaar Ke 6th April 2020 Written Update on Tellyexpress.com
Episode begins with Mishti asks Abir that how is she looking? Abir gets mesmerized seeing her. She gets confused seeing his silence and asks isn't she looks good? He says she looks perfect. Abir gets call from Nanu and acts like he was talking with some girl and talks about singing. Nanu understood Abir making Mishti jealous. Mishti says she too can sing well and asks with whom he was talking? Abir says does she remember about his painting girl and asks she sings too? Mishti says he never showed the painting to her and says she will show him how she sings. Abir and Mishti starts to sing. Kuhu gets upset seeing that.
Few guys tries to misbehave with Mishti. Mishti shouts at them and asks them to leave from washroom. They tries to make her drink, that time Abir comes there. Seeing Abir those guys runs from there. Mishti hugs Abir and cries. Abir consoles her. (Dheere dheere se plays in background) Mishti apologize to him for hugging and thanks him for saving her.
She says she will do the things which destiny wants her to do. He says he too trust the destiny and the destiny only gave the signal to him. She says she have to tell the truth to Rajshri because she already told enough lies to her for Kunal and Kuhu now can't say more. He says then why she keep telling lies to herself about her feelings and says she can't win against him, holds her hand. She says she wants to go to home. He leaves her hand.
Kunal sees them together and recalls what Shweta told about Mishti and Abir. Kunal tells Meenakshi that Abir likes Mishti and she is trying to separate Abir from them and he feels helpless, can't do anything in this matter. Meenakshi says it can't be true. Kunal says he saw them together.
Meenakshi says Abir and Mishti not meant for each other. Abir recalls his moments with Mishti. Mishti too recalls the moments she shared with Abir. Kunal says he thinks Abir loves Mishti. Meenakshi slaps Kunal after hearing him. Mishti reaches Abir room and shocks seeing her painting there and recalls how Abir always tried to hide that painting from her. She realizes that Abir loves her.
Abir calls Mishti and asks why she didn't called him? She says he too didn't called her. He says he messaged her. She says Kuhu tried to run away from home. He says he feels now Kunal likes Kuhu. She says she too feels same. He says new alliance too came for Kuhu so what to do now?
She asks how he knows about Kuhu's alliance. He says Kuhu told Kunal and Kunal told him. She asks is this right to hurt family for their love? He asks she won't fight for her love? She asks what he will do? He says he will make everyone understand his love and he won't sacrifice his love.
Episode ends.