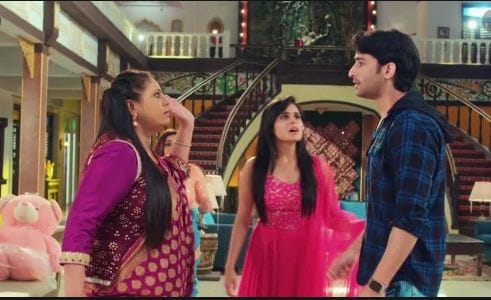 Yeh Rishtey Hain Pyaar Ke 6th October 2020 Written Update on TellyExpress.com
Today's episode starts with Kuhu saying to Kunal that she is feeling better. Meenakshi comes and talks with Kunal. Kuhu excuses herself. Meenakshi says to Kunal that she doesn't know what Abir is talking about. She says she doesn't know about deal juts want the heir of the house. Kunal asks her not to give explanation. Meenakshi says like the way he supports her, she wishes Abir do the same.
There, Mishti goes to confront Kuhu about the deal. Kuhu gets angry at mishit. Kunal comes and takes away Kuhu with him. Abir looks for Mishti. He bumps into Parul. Parul says she didn't know truth was this bitter. Abir says he too. He adds Meenakshi used to benefit Kunal's silence and now she is cashing upon Kuhu's insecurities. Kunal overhears the talk. Abir tries to talk with Kunal but Kunal refuses to. Mishti thinks to fix the things.
There, Jasmeet and Varsha learn about Kuhu's deal with Meenakshi. Varsha decides to confront Kuhu. She asks Kuhu to meet her but Kuhu refuses.
Other side, Mishti meets Varsha and tells her about Meenakshi and Kuhu's deal. Varsha thinks she knew about Kuhu's act. Meanwhile, Abir looks for Mishti. Mishti comes back home. Abir thinks to talk with Kunal.
Here, Meeankshi thinks Kuhu and Mishti came between her and her sons. Parul comes and says to Meenakshi that whatever she has done is unbelievable.
Abir goes to meet Kunal. Kunal refuses to talk with Abir. Kunal tricks Kuhu and learns from her that she made deal with Meenakshi for money and property on baby's behalf.
Later, Abir and Mishti decide Baby's future. They call Parul too. Mishti feels sad that their fight is giving bad impact on baby. Kunal comes to Abir. Kuhu comes and Kunal asks her to explain about the deal. Kuhu tells to Mishbir and Parul that meenakshi made a deal with her. Meenakshi comes too. Kunal says Kuhu didn't make any sacrifice but it was just the deal. (Episode Ends)
Precap: Abir decides to fix the things. Kunal gives divorce papers to Kuhu.