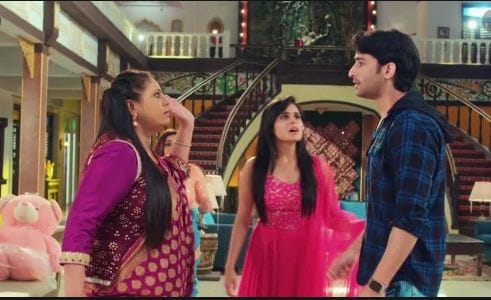 Yeh Rishtey Hain Pyaar Ke 7th October 2020 Written Update on TellyExpress.com
Today's episode starts with Kunal asking Kuhu, if she became surrogate by her choice then why she manipulated him against Abir and Mishti. Abir says Meenakshi asked Kuhu to do all these. Kuhu apologizes to Kunal and Mishbir. Varsha interrupts and says that Kuhu fought with all for Kunal's love. She says Kuhu is Maheswari's daughter and is not after money but only wanted respect which Meenakshi never gave to Kunal and Parul too. Meenakshi stands shocked. Varsha decides take Kuhu with her. Mishbir decides to talk with Varsha.
Varsha packs Kuhu's bag. Kuhu asks Varsha to listen to her once. Mishti and Abir too tires to talk with Varsha but Varsha refuses to listen to them. Varsha assures Mishti and Abir that their baby will be safe at Masheswari house. Varsha walks out from the house with Kuhu. She decides once baby will arise she will separate her with Kunal.
There, Kunal recalls the moment and Meenakshi comes. Kunal accuses Meenakshi for the mess. Here, Mishti accuse Kuhu and Abir makes Mishti understand that Meenakshi is manipulator thus Kuhu got influenced by Meenakshi word.
Other side, Kunal says to Meenakshi that she never trusted him. Meenakshi gets shocked. Later, Abir decides to fic the things. He says to Mishti that he won't let Meenakshi destroy house peace.
In the meantime, Mishti goes to meet Kuhu. Jasmeet and Varsha don't allow Mishti to meet Kuhu. Varsha says she will take care of Kuhu and her baby.
There, Kuhu had a bad dream. She sees Kunal divorced her. Kuhu wakes up and cries. She regrets her act. Mishti prays to God for Kuhu and her baby.
Meenakshi asks Kunal to have food. Kunal ignores. Mishti asks Kunal to have food. Meenakshi says that one day Kunal will agree that Kuhu is at mistake. Kunal asks Meenakshi to stop. He asks Mishti to take some rest. Meenakshi says he won't let anyone snatch her house peace. Abir says he wants the same. (Episode Ends)
Precap: Abir transfers his property on Kunal's name. Meenakshi gets shocked. Kunal says to Meenakshi that he won't let her use him anymore. Parul says to Meenakshi Kunal don't meant to hurt her. Meenakshi asks Parul who is she to make her understand. Kunal takes a stand for Parul.