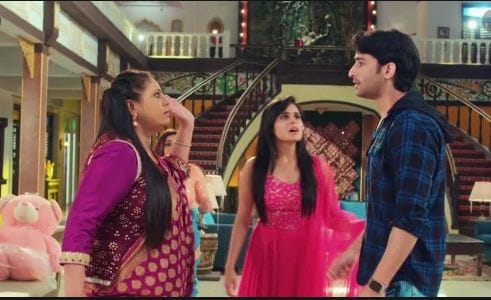 Yeh Rishtey Hain Pyaar Ke 8th October 2020 Written Update on TellyExpress.com
Today's episode starts with Meenakshi saying she won't let Kuhu snatch her house happiness. Abir comes and says he thinks alike. He shows property papers to meenakshi. Meenakshi gets shocked reading Abir has transferred the property to Kuhu and Kunal. Kunal asks Abir why he is doing that. Abir says he don't understand business and property and just need him in his life. Kunal says he won't let anyone come in between them. He hugs Abir. Parul gets tensed thinking about Meenakshi's reaction the same. Mishti asks Parul not to over think as they will fix everything. She says now they have to concentrate on Kuhu.
Mishti goes to Meenakshi. Meenakshi asks Mishti to fix everything. Mishti says they are doing that. Meenakshi says to Mishti she does not understand once baby will come they will regret their decision. Mishti says baby doesn't understand property and business rather only understands relationship first.
Afterwards, Parul asks Kunal not to stress. Meenakshi comes and asks to Parul if she is instigating Kunal against her. She asks Parul to go to kitchen. Kunal takes a stands for Parul and calls her mother. Meenakshi stands shocked. Parul stands stunned too. Kunal says he won't let Meenakshi use him anymore. Mishti and Abir stand far and see them. Meenakshi asks Kunal then who is she to her. Kunal says she is just a business woman.
Abir hugs Kunal. He says he is proud of him that he took stand for the first time. Later, Abir and Mishti ask Kunal to bring back Kuhu. Mishti worry for the upcoming.
Kunal tries to contact Kuhu. Varsha takes Kuhu's mobile and says he won't let Kunal re-enter in Kuhu's life.
Meenakshi loses her cool thinking both Abir and kunal is not talking to her. Mishti tries to pacify Meenakshi. Meenakshi asks Mishti to leave. Parul says to Mishti everything will get messy. Mishti says she will fix everything because her baby will take a birth in a happy family.
Mishbir decides to bring back Kuhu. Next say, Abir and Kunal gets ready to bring back Kuhu. Meenakshi stays back. (Episode Ends)
Precap: Varsha refuses to let Kunal take Kuhu back. Mishti decides to shift Mumbai with Abir and her baby.