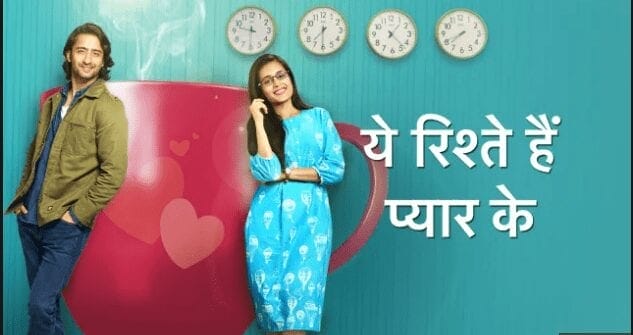 Yeh Rishtey Hain Pyaar Ke 9th April 2020 Written Update on Tellyexpress.com
The episode begins with Jasmeet says in sangeet they have to win anyhow and ask Mishti and Kuhu to keep their fight aside and think to win against Kunal family. Kunal dances with Kuhu on salaam ye Ishq song. Abir dances with Ketki and teases Mishti too while dancing, later everyone joins them. They ask Meenakshi to join but she denies them. Kunal notices that. Rajshri asks what's happening.
Abir says nothing but everyone won. Jasmeet says how it's possible and says no one cares even if she is sad. Abir says it's not like that and everyone dances on wakhra swag song. While dancing without Abir's knowledge Mishti puts one chit on his pocket. Later he sees that and seeing that Mishti runs from there. She goes to the already decorated the bus with balloons and recalls her and Abir's first meeting. She says her journey started when she first time saw him. They may look different outside but actually the same inside.
Both loves family and knows the pain of separation. She says she always irritated and annoyed him but they had a connection that's why he always took stand for her and he always made her smile. She says it's a little difficult to understand his poetry sometimes but she understands him very well and he accepted her the way she is, never asked to change her he likes her the way she is and respects her too. That's why she wants to say to him that she loves him but shocks seeing Meenakshi there. Meenakshi stares her angrily.
Mishti apologizes to her and says she thought it was Abir and says she didn't saw her. Meenakshi says she too didn't saw the real Mishti till now. She says so much happening in Abir's life but she doesn't know anything. She says first Mishti rejected Kunal and he is already hurt now trying on Abir. She says now Mishti won't say anything to Abir and asks her to forget Abir. She says if Abir starts to like Mishti then it will hurt Kunal and her family will break and she can't see that.
Mishti says Abir won't listen because she too knows him well. Meenakshi says if she says then Abir will leave her for Mishti and won't listen to her. But if she asks Kunal to leave Kuhu then he will listen to her for sure and won't reach marriage mandap. She asks her to choose between love and her family.
Mishti says she only came with pre-marital courtship idea and during that time Abir did everything for her and after knowing that she fought with her feelings but not anymore because her feelings is right and so her love. She confesses her love in front of everyone.
Vishwamber asks, in the end, she falls in love with Abir and falls down holding his heart. And it turns out to be Mishti's dream. Abir asks what happened to Mishti. Mishti says she is fine. He asks he doesn't want to believe her still he is doing today just for her. Meenakshi sees that.
Episode ends.
Precap – Abir dances on mehandi celebration.