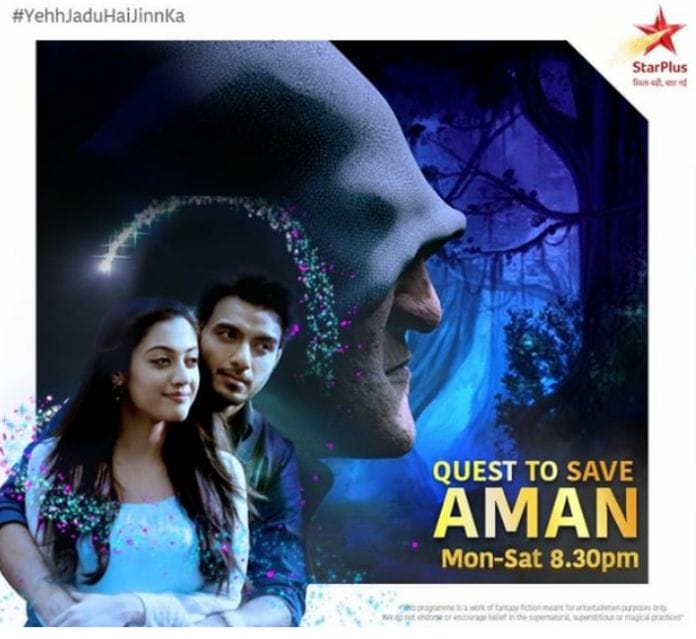 Yehh Jadu Hai Jinn Ka 12th November 2020 Written Update on TellyExpress.com
Episode begins with Roshni comes down and doesn't understand what happened to the weather? She notices the brightest sun and faints and falls on the floor. All the housemates appears in the Hall and Aman is about to come near Roshni but Rubina stops them. She uses her magic and frized all the people in their places only. She sits besides Roshni and brings out her heart and attached in her body. She thinks that she wins the game. She went away from there and all the members get released.
Aman tries to awake her but Rubina comes and says she is dead and I did what I always want to do. She mocks Aman for not being able to save Roshni inspite of saying such big big words. She says you said that you will not let anything happen to Roshni but see what I wanted, only that happened here. Anjum notices the sun and gets shocked. Baby says if it is the night of the brightest sun then Roshni will not be awake. Aman gets terrified and tries to wake her up. Rubina says I an bored with your faces and activities.
Glad that I don't have to tolerate you people any more. She says but my work is not done yet and calls four different types jinn again who comes to Aman and the family earlier too. She asks them they are extremely annoying so you killed them all at one go. Aman and Rehaan tries to cover his family members but couldn't. Rubina says today your magic will not work and Aman doesn't even get to call Baazigar. Rehaan and Shayari goes to save guard the family members but before that they get caught in the web of spider along with the other family members.
Aman tries his best to rescue them from it and Chunbun is doing the countdown. As soon as she is done with her count the family members falls and died at the spot only. The shadow jinn stabs Rehaan and Shayari to death and Shayari looks at Rehaan lovingly and falls on the floor and both of them closes their eyes. Aman goes and sits besides them and cries. Rubina comes from behind and stabs Aman to death.
.Aman goes near Roshni and holds her hand and dies with lots of pain in his eyes. Suddenly the dream of
Roshni is over and she gets up and noticed everything is fine and she is seeing a dream. She hugs Aman and checks on all the family members. She says I changed my decision of giving my heart to Tabeezi because that woman can do anything after getting power and she says I have also thought about an alternative way.
She asks Shayari for help and Shayari agrees with her. Later Shayari and Roshni makes a physical bridge between them and Roshni's kid transfers into the womb of Shayari for safety purposes. Suddenly the house feels with smoke and they lands in the black magical jungle. All the family members are shocked to see this.
Precap – Rubina comes to take Roshni away. She says I will go with you and hugs Aman tightly while Aman is looking her intently.
Click to read: