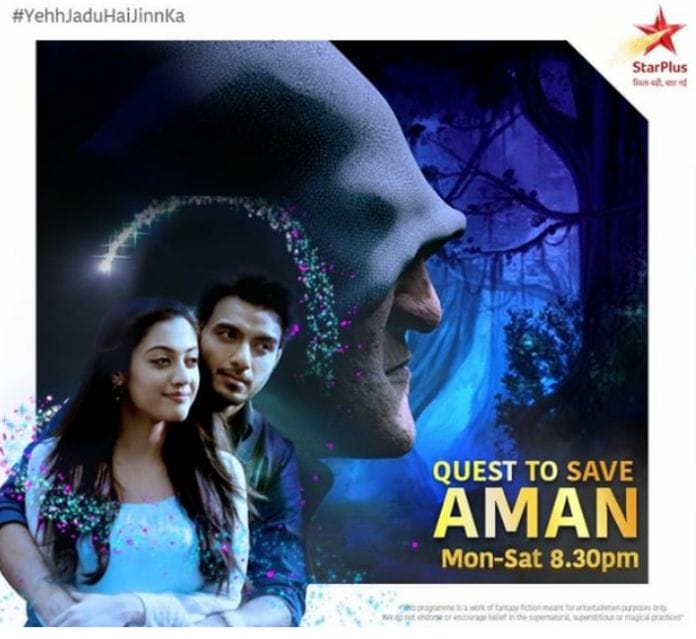 Yehh Jadu Hai Jinn Ka 13th November 2020 Written Update on TellyExpress.com
Episode begins with the family members are shocked to see around them. They see the jungle around them and couldn't understand anything. Roshni sees around them and realises it's the brightest sun night and Rubina comes there suddenly using the pittal darwaja. Rubina asks Roshni to come along with her and Roshni is scared.
Rubina tries to scare her by showing her all the powers and jinns along with her. Roshni gets scared to see things are happening like her vision and she says to Rubina that I am coming with you. She is going to come with them when suddenly Aman asks Rubina about Armaan. He says you promised us to give back Armaan in exchange of Roshni. We are ready to give you Roshni but first give us Armaan. Rubina brings Armaan and Aman and Roshni rushes to him and showers their love.
Rubina is asking Roshni to come along with her and is conitniuously calling her. Roshni gives Aman a last hug and asks Salma to take care of Armaan and steps forward. Rubina says at last you have to do what I wanted. Roshni denies to go with her at first place and says I changed my call to come along with you. Roshni says I was ready to give my heart to you, everyone in my family tries to stop me but I didn't pays attention to anyone.
However, thanks to God and my parents that they helped me to see the future. I am aware about what you are going to do hence I changed my call and she asks the housemates not to get scared of Rubina as she will not be able to do anything to them. Aman comes on a hilltop and uses his magic to put an eclipse on golden sun using the moon to save Roshni from Tabeezi. He is doing some dangerous magic here and is facing difficulties.
Rubina drags Roshni and comes to a seperate place. Roshni asks her where she brings her and why and Rubina noticed the ring in the finger of Roshni. She asks her what is this and Roshni says this is the gift of my mother's soul for me. Roshni thinks why Rubina is scared of my ronig and suddenly a power comes out of her ring and breaks a tree. Rubina takes the ring from her using her tricks and says it's your bad luck that your mother didn't tell you about the powers and protection this ring will need.
Aman is captured by shadow jinn but Armaan helped Aman and he successfully escaped the clutches of him. Rubina denies to give the ring and is telling Roshni how she is better off without the ring of her parents and how she is the one who can use the powers of the ring as well. Rubina is smiling in victory when she noticed Roshni is not with her anymore and she gets angry again.
Precap – Roshni meets Aman but he is not able to move or speak. Rubina comes and says I freezed him so neither he will be able to speak or do anything.
Click to read: