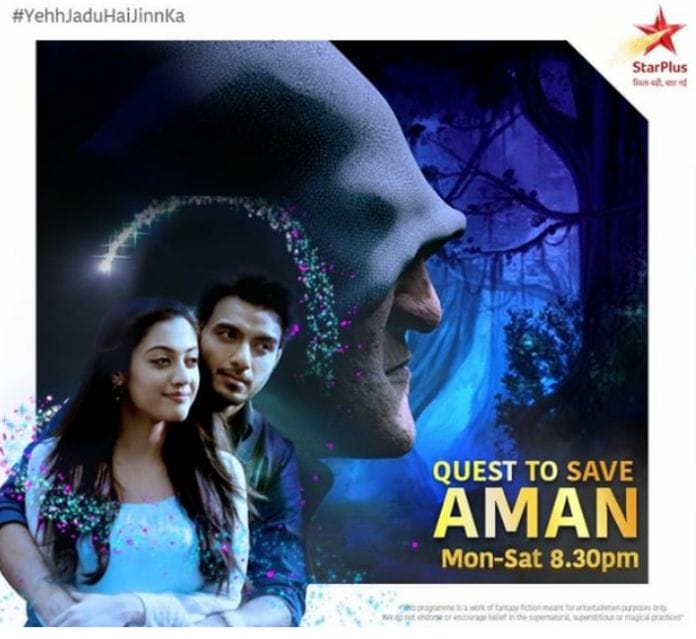 Yehh Jadu Hai Jinn Ka 4th November 2020 Written Update on TellyExpress.com
Episode begins with Rehaan comes near the mirror and asks for Aman. He tries to call him and talk to him and somehow his hand goes inside and he thinks if it is Aman who is dragging his hand! He tries to drag his hand outside of the mirror. Shayari comes and drags Rehaan other hand. The family members come besides Shayari and helps her to drag Rehaan outside.
Anjum starts to say 'haat haat me, saath saath me' so that they can drag him outside. They are able to bring Rehaan out along with Ilm-E-Jinn book but Aman doesn't come out. Rehaan tries to see what happened but the mirror itself goes vanished. Salma noticed Roshni is going vanish very soon. They tried to save Roshni and Shayari tries to know from the book about the process of saving Roshni. They got to know only the water of Rainbow can save Roshni and her life.
Rehaan brings rain and sunlight but he is unable to control the sunlights. Anjum brings Armaan out and says we have an Ayana who can bring the water if Rainbow and can also control the sundays. They request Armaan to use his ayana powers only and save his mother life. Only he can do it today and Armaan smiles and looks at Roshni once and a light comes out of the eyes of him and a rainbow is created on the sky and the water comes and Anjum holds it in her hand and put the water on Roshni and she revives her life.
She slowly opens her eyes and looks around to see the family members and she hugs all of them and also Armaan for saving life of his mother once again. She looks around and asks for Aman as well but no one is able to answer her. On the other side, Rubina gets a hint as Ilm-E-Jinn gets opened on its own and she understands that it has something to inform her. She does her own process to know about it. She gets to know that Armaan saves Roshni once again and she feels irritated that these people can never accept their defeat.
She decides if they don't know how to get defeated then I will also teach them a lesson which they will remember for years. Roshni gets to know that Aman is trapped inside the world of mirror and he goes there to save her life. Rehaan says maybe only one from him and the book can come out and he priorities the book because you will need it. Roshni being an Ayana can see Aman and says you always do something stupid and now got caught inside like this.
Aman doesn't say anything and slowly goes inside the mirror and totally dissolves in the darkness. Roshni can see him going and she cries. She scolds Rehaan and Shayari for giving company to Aman knowing well that in such situation he becomes emotional and doesn't care about practical knowledge. Shayari suggests Rehaan to go and asks for sorry from Roshni, may be doing nothing can be the best thing to do.
They come to Roshni and Rehaan says you are not alone and we all are with you and I will listen to you know and vows on Armaan when he notices a spider below and he smashed it with his shoes. Roshni takes Armaan in hand and goes out of the house while so many spiders are coming out from that smashed spiders.
Precap – Roshni confronts Rubina and asks her about the spiders. She promises to protect her family from this problem.
Click to read: