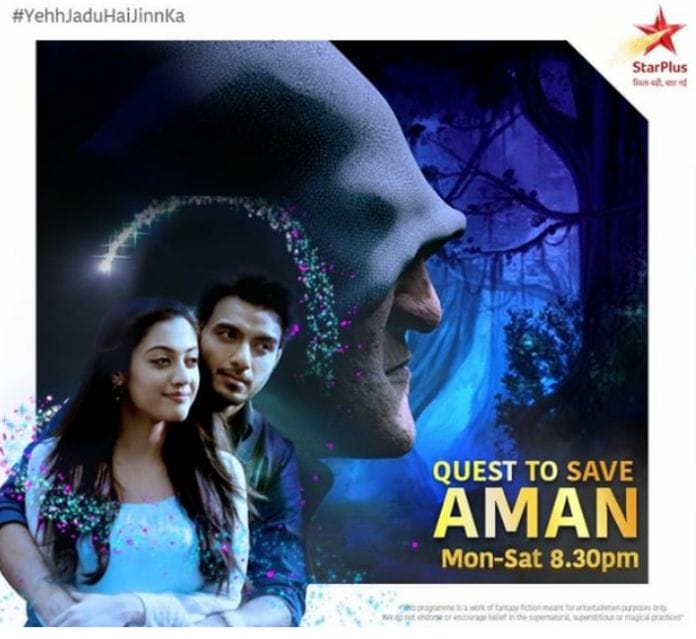 Yehh Jadu Hai Jinn Ka 9th November 2020 Written Update on TellyExpress.com
Episode begins with Roshni crying and talking with Salma and says I did a blunder again. Last time also I did it with Armaan with black jinn. This time I did it with Rubina. I am such a disgusted mother and Salma asks her not to think so negative. She says last time situation is different, I have Aman with me as my safeguard and strength but this time even he is not with me. Aman is listening to her words from behind the mirror and the rakhwala jinn is telling Aman you did a blunder by not going out of this place last time.
Aman says to him I did what is needed the most. Roshni sees a food tray with lots of food items and the baby baazigar comes to her. She gets to happy to see that Armaan is exactly like her father and he takes care of me like Aman used to did. Roshni says to Aman that Armaan has grown up to be a sensible and matured child. See how he is taking care of me. Aman is watching things from behind the mirror and watching Roshni and gets happy.
Rehaan made a protection guard for the Junaid manzil and says till the time I am alive no one will be able to harm my family and he thinks Shayari will be here in some minutes so I should be prepared for her and he arranges things for her. He does magic and arranges decorative lights and a beautiful sitting place for Shayari and decides to confess about his feelings for her clearly. He decided that he will tell her today about it and asking himself not to get nervous and is practicing his lines. Someone is coming from behind the bushes where Rehaan is standing.
Shayari is getting excited to go and meet Rehaan and she rushes to the garden lawn area as soon as the time is up for her. Rubina secretly enters the room of Armaan and captures baby bazigaar in a cage first and she says to Armaan how are you?
Like your father even you have the habit to come between my path so it's important to abolish you from my circle because I don't want anyone to be alive by the time of the ultimate night to help out Roshni. She sprinkled some magical water around Armaan. Rakhwala jinn gives Aman a hint through which he can go out of the cage.
Shayari comes to the garden and can not see Rehaan and he is taken away by someone from her behind. Roshni and Shayari decided to look for Rehaan and they went to the house of Rubina and Shayari gets caught inside a box and finds out she is in some place kidnapped by the same bauna jinn and Chunbun tai.. She spots Rehaan is also caged at the same place. Aman gets a clue to get out of the place. The ring Roshni gets from her parents has some magical powers and it is trying to help Aman only. Baby unintentionally beings out sphriti heera and it can being out Aman from the world if mirrors.
Precap- Aman is back but Rubina runs away from the house with Armaan.
Click to read: