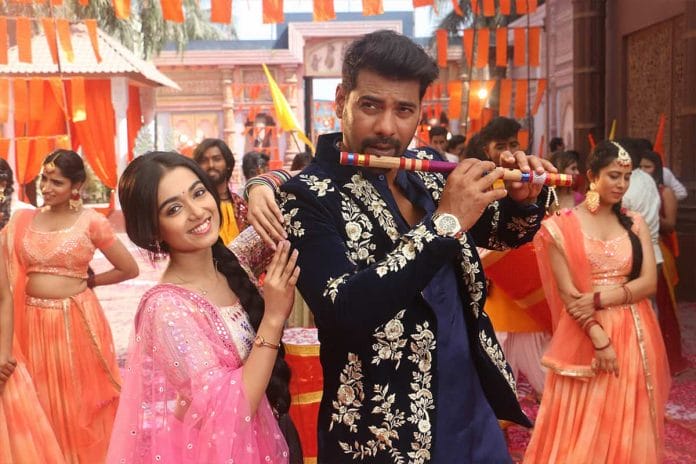 Show Pyar Ka Pehla Naan Radha Mohan is entertaining audience with its interesting storyline. In the upcoming episode, Pyar Ka Phela Naam will celebrate Janmashtami. Amid the celebration the unexpected twist will put viewers to the seat edge.
Pyar Ka Pehla Naam Radha Mohan will celebrate Janmashtami in the presence of Lakshmi-Rishi from BhagyaLakshmi, Ranbir-Prachi from KumKum Bhagya, Mithai from Mithai and others. Unexpectedly, Saath Nibhana Saathiya fame the Jodi of Gopi Bahu and Kokila Ben will also be a part of Pyar Ka Phela Naam Radha Mohan Janmashtami special. Their presence in the show will bring high voltage drama in the show.
According to the promo, Mohan will welcome Kokila Ben and will later alert her. He will tell her that her life is in danger. Kolika will as Mohan how he knows. Mohan will put Kokila on gun point. Kokila will get shocked. Is Mohan playing a prank on Kokila or he is up to something unexpected? Well, do not miss Pyar Ka Pehla Naam Radha Mohan to unfold the upcoming mystery. See the promo
Actress Rupal Patel and Devoleena Bhattacharjee plays the character of Kokila and Gopi Bahu. Their Jodi is hit among the audience. Duo never fails to entertain the audience. Kokila and Gopi getting featured in Pyar Ka Pehla Naam Radha Mohan is exciting fans. They can't wait more for this Jodi to entertain them again.
Pyar Ka Pehla Naam Radha Mohan Janmashtami special episode will air on Zee TV, 20th August from 4:30PM.
The drama in the show is breath-taking. Hriday is leaving no chance to trouble Mohan and Radha. Gungun becomes his prey and falls down in the borehole. Mohan and Radha worries for Gungun and calls a rescue team to save Gungun. Mohan will attempt to save Gungun. Elsewhere, Hriday will plot against Mohan. To hurt Mohan he will cut the electric wire. Radha to save Mohan will push him. Will Radha will lose her life while saving Mohan and Gungun? What has been stored for the viewers of Pyar Ka Pehla Naam Radha Mohan? Keep watching the show to get the answers
Follow us for more TV serial news and updates