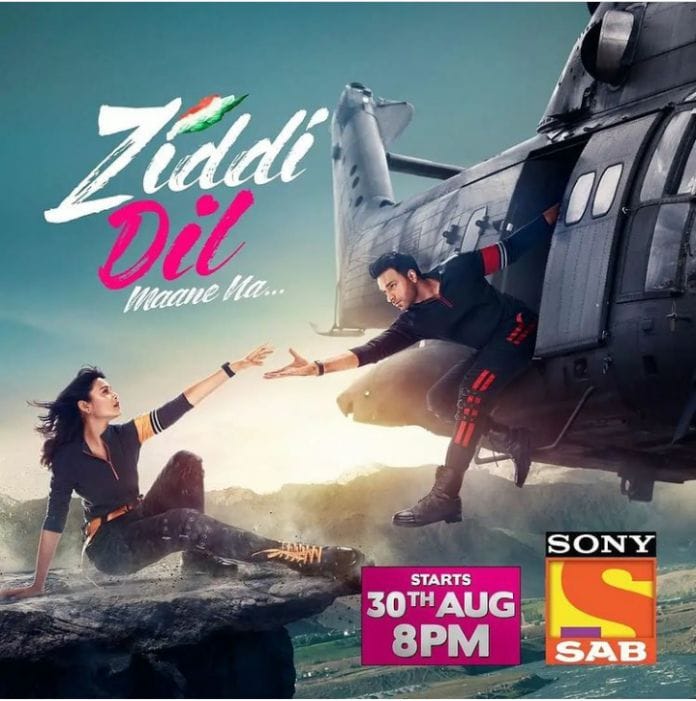 Ziddi Dil Maane Na 10th May 2022 Written Update on TellyExpress.com
The episode starts with Karan understanding Monami's signal and sees Sid. They both suddenly pretends like they were fighting and arguing Sid gets confused. He asks about it but both makes reasonable excuse which made Sid believe that what they said was true. They both sighs in relief as Sid sight doubt them. Sanjana is with her mother who's saying about someone who snatching village people's land. Sanjana suggests to consult a lawyer and her mother asks her to take Sid's help to find a good lawyer. Sanjana calls Sid but Sid is drinking with Bala. He doesn't pick the call due to year anger on Sanjana and Sanjana leaves leaving her phone. Sid again calls Sanjana but this time she doesn't pick the call. Sid gets angry at her again. Barkha is with Baby worried about Param. Param is beating himself with hunter and Barkha sees it. She will get shocked.
Monami sees Barkha crying and Monami asks what happened. Barkha says that she doesn't know to whom she should share her problems with. Barkha says that from the time he returned he's behaving completely strange. She says that at first she thought it's his trauma but it's not true. She says about what happened last night and Karan hears it all. Barkha cries while Monami consoles her. She asks her to not say anything to Param as there might be some reason for it. Monami comes to Karan who's fuming on Param and says that he can't let him mess with Barkha and Baby. Monami asks him to calm down as it may be dangerous for Barkha and Baby's life.
Karan doesn't listen and angrily goes to Param. He confronts him for trying to Baby and Barkha. He says he didn't mind when he tried killing him but he can't tolerate anything against them. Param identifies him as Karan and fights with him. Baby and Barkha comes there and Param points gun on Baby's head. He then shoots her shocking everyone. It turns out to be Karan's dream. He says Monami that she was right and he can't risk Barkha and Baby's life. Monami suggests him to say the truth to Barkha but Karan says against it as it could risk their life. He thanks Monami for taking care of them in his place and Monami asks him to say I love you instead of thank you. They gets romantic.
Barkha says Param that from the time he returned he's behaving weird. Param tries coming closer to her and Barkha warns him to not close to her else she'll shout. He shouts at her asking her to shout and Barkha drops the vase in fear. Karan hears it while Param leaves. Barkha picks up the vase and it hurts her finger. Karan gets shocked seeing her bleeding finger and asks if it's Param's work and reveals his real emotions. Barkha looks surprised at him and says he's Karan. She says about him caring for Baby when lights went out and asks if he's Karan. Karan nods yes and she gets emotional.
Precap : Karan will ask Barkha to install a spy chip under Karan's laptop and she does. Monami will alert Karan that Param is going to his room and they will worry for Barkha to get caught.
Click to read