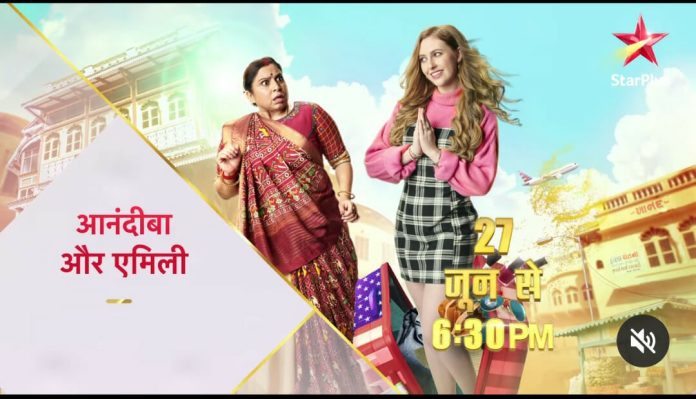 Aanandi Baa Aur Emily 5th August 2022 Written Update on TellyExpress.com
Episode starts with Gunjan stealing Jaibala's ticket and keeps it with her. She smirks thinking about the returning of Jaibala and determines to expose Emily's face in front of her. She then goes towards the terrace and shows the ticket to Pinky, while the latter acts to be emotional and misunderstands Gunjan.
She thinks that her sister had booked ticket for her to return back to their home, but the latter reveals her ploy to Pinky and tells that why she had stolen Jaibala's ticket. Pinky gets impressed with Gunjan and praises her.
Here, Pinky says that Gunjan is a great sister and shows her gratitude towards the latter for helping her. Meanwhile, Gunjan burns the ticket to leave no proofs against her. Pinky determines to marry Aarav after Emily and his divorce and expresses her excitement to Gunjan. They both then goes downstairs, where Anandibaa praises Gunjan for her plannings to save them.
Anandibaa states that because of Gunjan's ideas they are being able to stop Jaibala from seeing Emily's face, while the latter acts in front of her to fool Anandibaa. She gives all the credit to Anandibaa and states that only because of her blessings she could able to do it.
Elsewhere, Anandibaa gets shocked seeing Gulab eating lots of cashews and tells him about its high price. The latter tells that Parimal has asked him to do it and chants his name. Meanwhile, at that time Jaibala comes there and shocks Anandibaa along with other Sanghanis members. Gunjan pretends to be stunned seeing the latter, but smirks inwardly.
Jaibala expresses her emotions towards Anandibaa and states that she couldn't able to leave her. She decides to attend Emily's Muh-Dikhai ritual, while Anandibaa fakes her smile and then goes towards Emily's room along with Gulab. Whereas, Aarav shows his concern towards Emily and says that now she is free from the veil.
Ahead, Aarav tells Emily that how much she has compromised for their tradition, while Gulab ask her to remove the veil. But, Anandibaa comes there and ask her to keep wearing the veil. Emily gets confused between them and ask to tell a single thing. Anandibaa takes Aarav and Gulab outside of the room and shows Jaibala while they gets shocked seeing her.
Emily again covers her face, while Gunjan fakes her excitement towards Jaibala and says that she wanted her to stay with them for a longer period of time. Anandibaa gets worried about the ceremony, while Gunjan suggests her to make Emily wear a black wig in order to protect her from getting exposed in front of Jaibala. Anandibaa gets impressed with Gunjan and ask her to convince the latter for the same.
Further, Gunjan and Aarav convinces Emily to wear a wig and gets her ready for the function. Whereas, Gunjan tells her master plan to Pinky. Emily comes downstairs wearing the veil and long wig, while Jaibala notices it. She then opens the veil of Emily and sees her face, while everyone gets worried about her reaction.
Precap:- Gunjan intentionally keeps a leg on Emily's long hair wig, as she was about to move away. The latter's face gets revealed in front of Jaibala as the veil gets uncovered along with the fake hair. Jaibala gets shocked seeing Emily and taunts Anandibaa about it.
She reminds her about the past situation, when she made Jaibala break her daughter's marriage and ask Anandibaa to do the same. She proclaims that it's Anandibaa's test to choose in between her authorities or Aarav's marriage, while Anandibaa gets shocked and becomes nervous to take a decision.
Episode starts with Aarav assuring Emily about helping her in serving food to Jaibala. The latter gets nervous after covering her face with veil, as she couldn't able to see anything. Whereas, Jaibala waits for Emily to serve her food. Gunjan enjoys the drama and waits for Pinky to start their plan. Meanwhile, Emily hears Aarav's voice through her earpods and follows his instructions. She mistakenly says english words, while Jaibala gets shocked. Anandibaa covers up for Emily and handles the situation smoothly.
Here, Gujan gets irked seeing Emily serving the food to Jaibala perfectly and waits for Pinky to begin their plan. She then gets up and goes towards her sister in order to signal her to start the ploy, whereas the latter gives thumbs up to Gunjan and takes a control over the huge fans.
Emily slowly serves the food to Jaibala, while the latter gets impressed and praises her. Whereas, Anandibaa becomes nervous and keeps looking towards Emily and Jaibala. Meanwhile, Aagaya comes towards Aarav and starts talking to someone about his work. He shares his problem with Aarav, while the latter takes his phone to instruct the caller.
Click to read