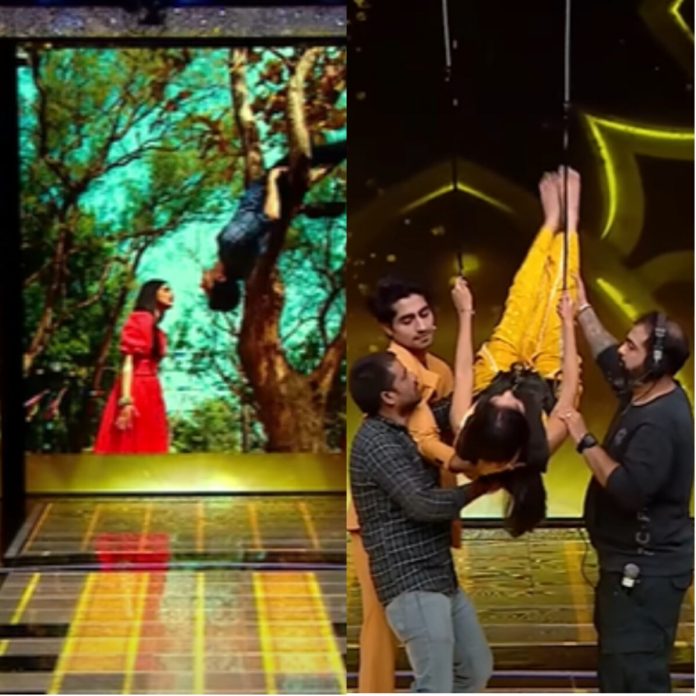 Harshad Chopda is already in buzz for doing real stunts by himself on his on-going show. The longest running 'Yeh Rishta Kya Kehlata Hai' is another hit show in Harshad's acting journey. He was applauded few months ago for doing spider-manyu stunt for his show. He turned upside down from the tree to propose his lady love. The scene created huge buzz online and got social media attention.
Actress Pranali Rathod who shares the screen with Harshad in the show is all set to re-create the same moment. Yes, you read it right; Pranali who plays the character of Akshara in Yeh Rishta Kya Kehlata Hai will imitate Abhimanyu and will propose him in his style.
Star Plus newly launched 'Ravivaar with Star Parivaar' is giving joyous moments to its character. In the upcoming Sunday team Imlie and Yeh Rishta Kya Kehlata Hai will compete with each other. Amid the entertainment, host Arjun Bijlani and Armaan Malik will show Abhimanyu's clip from the iconic confession. He will ask Abhimanyu to explain the scenario. Abhimanyu will tell about love confession scene between him and Akshara. Arjun will ask Akshara to re-create the moment for Abhimanyu. Abhimanyu, Akshara will propose each other again.
Pranali Rathod and Harshad Chopda both nailed this spiderman inspired stunt. We would like to know from you who did it better? Comment for your favorite in the comment section below.
About Yeh Rishta Kya Kehlata Hai
Currently show is witnessing third generation. Love story of ABHIRA is impressing show audience. On story front, Abhimanyu and Akshara had a big fight. Akshara return to Goenka house. Goenka celebrates Sawan Milni. Amid the celebration Suhasini falls ill. Abhimanyu takes care of Suhasini. Suhasini asks Abhimanyu and Akshara to stay together forever. Akshara stays back at Goenka house. Abhimanyu convinces Goenkas and Birlas to let Akshara stay back.
Manjiri worry for Abhimanyu and Akshara. Abhimanyu and Akshara both assure Manjiri that everything is fine between them. Abhimanyu think Akshara's ego has become big than their love. Akshara think Abhimanyu didn't ask her to come along. Both long for each other. Abhimanyu gets a recording from Akshara. He misses Akshara. Later, Goenka's admit Suhasini at Birla hospital.
In the upcoming episode, Kairav will lose his temper on Abhimanyu for hurting Akshara. Akshara will make a shocking move. Stay tuned with us to know about the upcoming twist in the show