Colors TV Udaan is all set bid the adieu and currently the show is witnessing edge of the seat drama.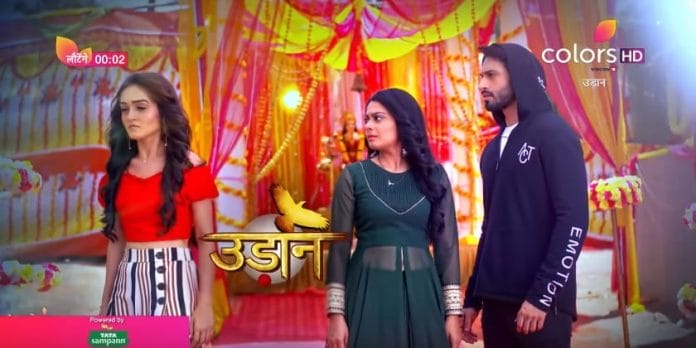 Chakor scares Bua as a ghost. Bua shouts for the help. Manoj, Jaya, Vanshika hides and later they all went to search for the diamonds. Ranvijay asks Bua what happened. She tells him that she has seen Chakor's spirit. Chakor says Bua is acting strange.
Ranvijay asks Bua not to confuse him between Chaya and Chakor, as Chakor is dead and can't come back. Bua says she has called some baba and he will prove that Chaya is Chakor. Manoj comes as baba and scares Bua. Later, Vanshika tells Chakor that their plan was successful. Chakor says to her that she will take Sameer's revenge from Ranvijay at any cost.
Meanwhile, Bua plans against Chakor and decides to expose her in front of all. She tricked microwave and asks Anjor to boil water for her. Chakor saves Anjor from getting electric shock. Bua captures the moments between mom and daughter and gets happy thinking she got prove against Chaya.
Bua calls Ranvijay and shows him the video but the video doesn't see anything.
Now in the upcoming episode will see, Anjor will resume her memory.
Jaya will inform Manoj that she and Vanshika managed to stop Anjor's premature delivery. Later, Chakor will tell Manoj that they need to create more rifts between Bua and Ranvijay.
Ahead, Ranvijay will threaten Bua and will ask her to sign the papers. Anjor will ask him to leave Bua. In a fight Anjor will fall down and will regain his memory back. She will ask Ranvijay how he dare kill Sameer. Everyone will be shocked hearing him.
What next happens in Udaan will be interesting to watch.
Keep visiting this space for more news, spoilers and updates.