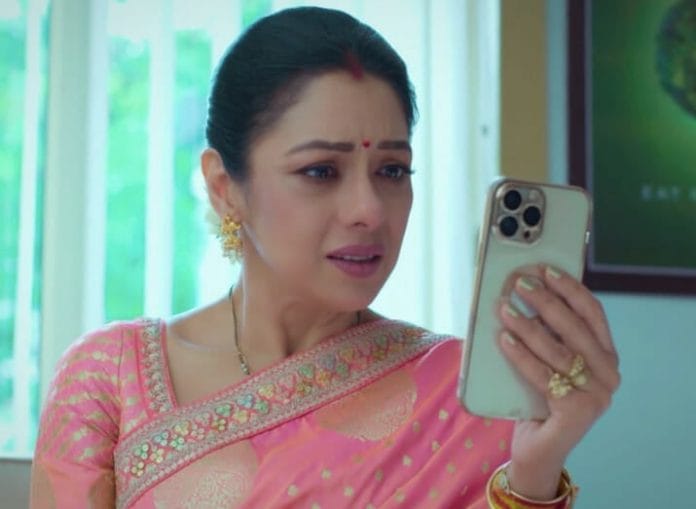 Anupama 15th November 2022 Written Update on TellyExpress.com
In today's episode, Pakhi confront Adhik. She asks Adhik not to do unnecessary drama. Pakhi ask Adhik what problem has if she has accepted little jewellery. Adhik says she has accepted jewellery that costs 60 Lakhs. Pakhi says they dnt have to pay immediately. Adhik asks Pakhi how they will pay it later. Both argue with each other. Anupama spots Adhik and Pakhi.
Devika, Kinjal and Kavya dance. Paritosh gets happy seeing Kinjal. Ankush and Barkha also perform. Leela praises Barkha's dance. Kavya asks Leela to perform better dance. Leela asks Kavya to wait for her turn. Anupama decide to go to Pakhi and Adhik. Adhik says to Pakhi that his monthly salary is 1 Lakh. Pakhi asks Adhik why he is doing job n Anuj's office rather being Anupama and Anuj's son-in law he should as for an equal partnership in the company. She asks Adhik how his dream can be so low being Barkha's brother. Anupama over hears Pakhi and Adhik's conversation and stand teary.
Leela and Hasmuk perform in the last. Samar calls everyone for the group dance. Adhik avoids Pakhi while dancing. Anupama sees Pakhi and Adhik. Pakhi share with Barkha that Adhik is still upset with her on accepting jewellery. Barkha asks Pakhi not to compromise on her dream. She adds sacrifice if a middle class word and she should not make the one. Barkha tells to Pakhi that her friends want to see her necklaces. She takes Pakhi.
Also, Read in Hindi:-
Anupama looks for Pakhi. Barkha along with Pakhi shows the jewellery to former friends. Barkha's friend taunts Pakhi over not being Kapadia. Pakhi says to Barkha's friend that Anuj will soon do partnership with Adhik. Barkha's friend highlight that Anupama didn't allowed Anuj to spend money on her sangeet than why she will allow him to give partnership to Adhik. Pakhi says she is following Anupama as latter married a rich guy to become rich. She says everyone wants to be a rich and the short-cut is to marry a rich guy. Pakhi says everyone bow down if she get adamant. Anupama stand shocked hearing Pakhi.
Shahs look for Anupama and Pakhi. Anupama slaps Pakhi. Pakhi asks Anupama what she has done. Barkha smirk thinking she got successful in manipulating Pakhi. Anupama cancel Pakhi's wedding function. Pakhi stand shocked. Barkha tries to overhear Anupama and Pakhi's conversation. She thinks she has sparked the fire between Anupama and Pakhi. Barkha says now Anupama and Pakhi will keep fighting. Pakhi pleads Anupama post latter cancel her wedding. [Episode Ends]
Precap: Anupama throws Pakhi out from the show. Pakhi and Adhik leaves the house. Shahs and Kapadias stand shocked.
Also See: