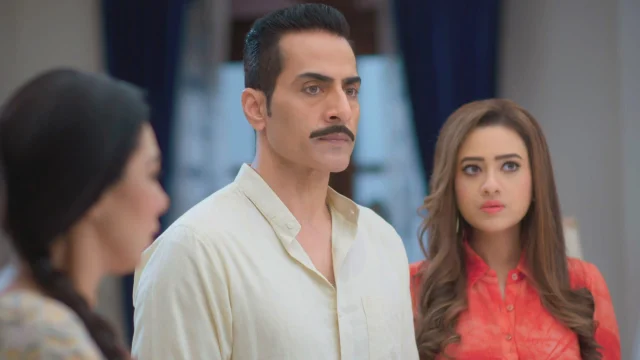 Anupama 7th November 2022 Written Update on TellyExpress.com
In today's episode, Anupama apologize to Anuj for interrupting him. Pakhi asks Anupama if asking for a grand wedding a crime. Anupama asks Pakhi when she was eloping didn't she thought about doing grand wedding at that time. She asks Pakhi how she can demand for good wedding despite knowing about her deeds. Anupama asks Pakhi to be happy elders of the house agree for her marriage with Adhik.
Barkha adds Pakhi and Adhik deserve marriage taking place at Shah house. She sas Adhik don't even deserve that too. Pakhi raises her voice on Barkha. Anupama calls Pakhi incredible. She says too Pakhi that being a mother she tolerated her insolent. But Barkha is like a mother-in law to her, Anupama asks Pakhi to give respect to her.
Pakhi about to defend. Adhik interrupts and apologize to Anupama on Pakhi's behalf. He convinces Pakhi to agree for the wedding at Shah house. Adhik assures about throwing grand party post the wedding. Barkha asks Adhik how he will give rand wedding. Adhik says he has savings. Barkha says post spending his saving he will not have a penny for a coffee. Pakhi gets angry. Barkha asks Pakhi if she getting angry than she can defend. Adhik control Pakhi. Anupama sees Adhik. Ankush says Adhik is talking sense.
Also, Read in Hindi:-
Kanta bid adieu to Anupama. Anupama lights the lamp for Pakhi's wedding. She invites God and asks to takecare further things. Barkha receives someone's message. She decides to make fun of Pakhi and Adhik's wedding.
Anupama, Anu and Anuj get ready to go on their work. Ankush tells to Anuj that Adhik will join them to the office. Pakhi packs lunch box for Adhik, Anupama, Anuj and Anu. Anupama gets smitten. Leela tries to call Anupama. Anupama cut Leela's call. Leela tells to Shahs that Anupama hang up her call. Hamsuk taunts. Anupama tells to Leela that she is in college and will come to the house later. Leela worries about Pakhi's wedding. Kavya asks if they are going to celebrate pre-wedding rituals or not. Vanraj agrees for only wedding.
Elsewhere, Barkha tries to bring Adhik's true face. Ankush alerts Barkha. Barkha gets adamant. Anupama gets the star for her presentation. Teacher gets impressed with Anupama's performance. Barkha welcome guests at Kapadia house. Pakhi's presence is questioned. Anupama invite her classmates and teacher for Pakhi's wedding. Teacher gives only one day leave to Anupama. Anupama decide to manage the class amid the wedding functions. [Episode Ends]
Precap: Barkha instigate Pakhi against Anupama. Pakhi question Anupama about having problem with Anuj spending on her wedding. She gets adamant for grand wedding.
Also See: