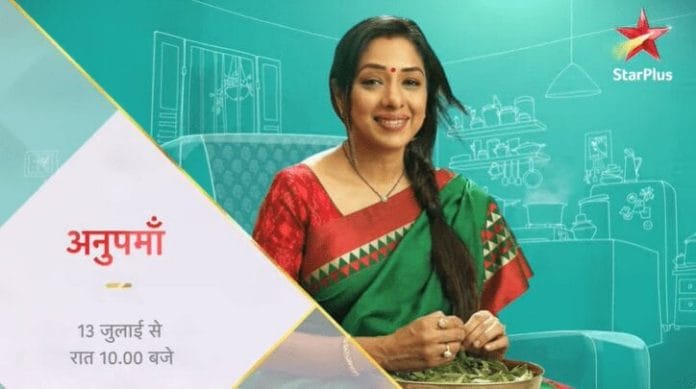 Anupamaa 14th August 2020 Written Update on TellyExpress.com
Episode begins with Nandini and Samar argues with each other. She tries to go to his house, but he stops her saying he won't allow her until she tells why she came here. She asks why she should tell him. He says it's his house that's why. She shocks listening him. While doing work Anupamaa fall down before her head hits Nandini saves her. Everyone gets worried, Leela asks about her injuries. Leela's brother says he doesn't know she cares about Anupamaa. Leela says if anything happen to Anupamaa then she has to do household works that's why. Anupamaa thanks Nandini for saving her. Nandini says maybe God send her to save Anupamaa. Nandini introduce herself to them and says she is Kavya's niece. Pakhi says Nandini too cool like Kavya. Nandini says Kavya told her to collect key from Anupamaa. Leela asks didn't Nandini get any other house. Nandini says last week only she came from US and because of time restrictions she can't go to options like PG or hostel. Kinjal gets surprised knowing Nandini came to India for studies. Nandini says she is doing PhD in classical dancing. Anupamaa gets happy hearing her.
Samar comes there and says his mother also classical dancer. Anupamaa praises Nandini for not forgetting India's culture. She asks Samar to show the house to Nandini. Samar says he is busy with attitude. Nandini says she will handle it. Anupamaa sends him with her. Kinjal says Nandini is cute. Anupamaa gets impressed with Nandini and hopes she will like the house. She thinks she can learn many things from Nandini too and she will get two friends Kinjal and Nandini. Nandini likes Anupamaa and also the house she came to see. She informs Kavya that she liked the house and asks her to finalize it. Anirudh tells Kavya that he loves her so much and he can't let her go. Vanraj recalls how Anirudh helped Kavya when she was about to fall down. He sees Nandini and hopes she won't create problems between him and Kavya like Anirudh.
Kavya gives the key to Anupamaa and says she liked the house. Anupamaa tells her to ask her if she needs anything. She invites her for puja. Nandini meets Vanraj and tells him she liked the house. Samar thinks his house is like India everything is good other than neighbors. Later, Anupamaa tells Vanraj what all happened from morning. He gets angry on her for inviting Nandini for puja. He says Nandini is Kavya's niece that's why he helped that's not mean she will start to treat Nandini like family member. She asks why he is talking like this and says she liked Nandini so much. He says Nandini's parents divorced and he doesn't wants Anupamaa to mingle with her. She says if Nandini's parents divorced each other then what's her mistake in this and says Kavya's divorce also going to happen. She says she doesn't know what's her mistake and apologize to him. He gets message from Kavya that she can't attend the puja because she has to meet the lawyer. He tells Anupamaa that she is right but Kavya can't attend the puja and Nandini may feel awkward if she attends alone. He asks her to convince Kavya so she stays full day. She says she will call Kavya and leaves from there.
Episode ends.
Precap – Leela taunts Kinjal for her dressing. Anupamaa supports Kinjal.