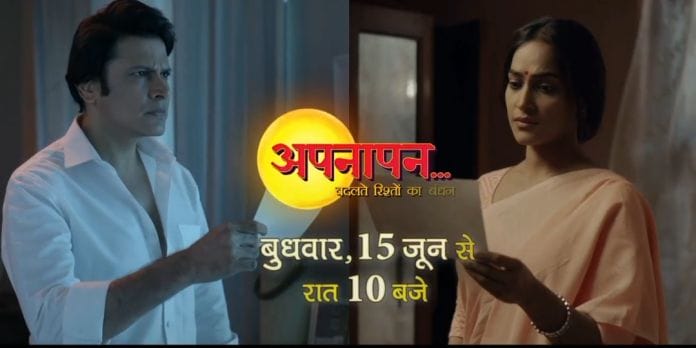 Appnapan 14th September 2022 Written Update on TellyExpress.com
Episode begins with Pallavi going to kitchen and she drinks water. Nick watches her. Pallavi starts coughing. Pallavi says you got Nick inside my house? Nick says situation. Pallavi says I don't want to know the reason. Nick says it's better na that she is here and we can avoid her saying anything about the reason for our divorce. Pallavi says people would have known that you cheated me. Pallavi cries and says from past 18 years I am trying to get over it, you have moved on but everytime I try to I fail. Nick hugs Nick. Sonali is watching them from far. Dadi comes and asks Sonali what are you doing here? Nick and Pallavi are shocked to see her. Sonali says I lost my way. Dadi says no issues I will take you. Sonali goes.
Here, Mana and Harsh are talking to Nandita when she says Sonali is my friend. Mana says you don't like Pallavi but you are friends with her sister? Mana goes. Harsh says I know you only got her here right? Nandita says no why are you thinking like this? Why will I get involved. Harsh says it's all so strange that she returned after so many years and that too on this day. Nandita thinks no one can know I got Sonali here. Here, Barkha shows Sonali saree options. Sonali sees one saree kept outside. Barkha says Nick has given this saree for mom. Barkha goes giving her a saree. Later, Pallavi asks Barkha if Sonali got the saree? Barkha says yes. Pallavi goes inside and finds Sonali wear the same blue saree Nick selected. Sonali says what happened? Did I wear anything wrong? It was kept outside so I wore this. Sonali says did anyone gift you this? Dadi or Jiju? Pallavi says Nick selected this saree for me the one I have worn. Sonali says that is why you are glowing, see my fortune got me to you. Pallavi gets upset and leaves. Sonali smirks and wipes her fake tears.
Here, Badal informs Nick that Pallavi went somewhere. Nick worries and thinks if Pallavi doesn't return everyone will know the truth. Nick asks Badal to find her. Barkha asks Ishan to take selfie when he says so much has happened you should take care of your family. Here, Pallavi walks in the streets and feels dizzy she feels helpless. Nimmi bua and guests see Sonali and go to her. Sonali thinks these ladies are all about gossips and I want to keep myself away from them. Still they come and remind Sonali of Mahesh how it was unnatural death and police also came. Sonali tries to escape but they keep on talking about how she must be helpless.
Dadi sees Nick and she asks him to bring Pallavi back as mauhrat is ending. Nick says Pallavi will be here in few minutes. Dadi panicks and asks him to hurry up. Dadi asks Mana to bring ghee so she goes. Ishan also follows her. Ishan confronts Mana about letting Barkha come in between them. Mana says I came in between you were her fiance first. Ishan says but she broke the relation then how are you doing justice with me? You don't feel anything for me? Mana says no. Ishan asks Mana to say it by looking in his eyes. Barkha sees Ishan and Mana leave together so she comes to kitchen but finds no one. Barkha gets doubtful about where can Ishan and Mana go. Ishan and Mana hide in the kitchen to avoid Barkha seeing them.
Badal catches a dizzy Pallavi and makes her sit. Badal says why are you feeling like this? I thought you will be happy seeing your sister, I was in contact with her. Pallavi gets shocked and asks her why? Badal says how he heard Sonali's name in their fights so he wanted to know why Pallavi and Nick broke up. Pallavi gets angry but them thinks his intentions were not wrong. Pallavi thinks she will not let Sonali get her kids get away from her. Here, Dadi goes to Pallavi's room and finds it empty. Nick tries to explain Dadi when Sonali says Pallavi is in the washroom as she was not feeling well. Nick sees Sonali in the same blue saree and feels wierd. Nick asks Sonali to get Pallavi downstairs when she is back and takes Dadi with her. Sonali smirks and enjoys. Nandita comes and praises Sonali for her work but also asks her to stay alert as this Pallavi is very twisted.
Episode ends.
Precap – Sonali does some rituals in the roka as Pallavi's sister. Dadi asks Sonali to stay with them. Sonali asks for forgiveness from Pallavi and Nick.
Click to read