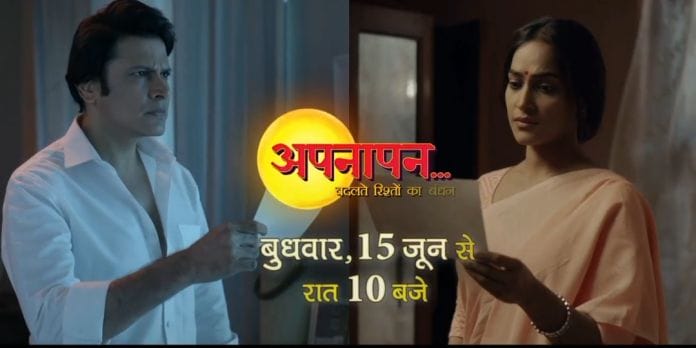 Appnapan 25th October 2022 Written Update on TellyExpress.com
Episode begins with Nick appreciating Pallavi for making his family a home. Everyone claps for them while Sonali and Nandita are upset. Lolita says to Sonali Nick loves Pallavi so much. Nandita takes Sonali from there. Barkha asks Pallavi to tell her vows. Nick says Pallavi is shy let it be. The kids request Pallavi and take her to stage and give her the mic. Sonali tries to remove the mic plug ins but one guy comes and fixes it. Sonali gets Ranveer's text, Nandita says I think we should postpone our plan for today. Sonali says no. Mana says as the mic is not working so let's do it after dinner. Lolita asks Pallavi to make Nick read the letter. Pallavi says no I feel shy. Here, the waiter keeps the letter and takes the vows. Sonali meets him on the way and asks him to write for Ranveer to Pallavi and seals it with a kiss. Sonali asks the waiter to do as per plan.
Here, waiter gives Pallavi and Nick a single plate and says the kids said you guys will share. The kids come and say you both have your moment. Nick says you are being romantic now but you didn't say any vow. Pallavi gives vows for food and how she will always make sure of he eats delicious food but will take care of his diabetes. Nick blushes and they share cute moment together. They feed each other food and enjoy the food. Dadi and Nandita are walking when waiter drops the letter so that Dadi notices it. Sonali thinks her plan will now work. Here, Pallavi and Nick hug each other and enjoy their moment. Sonali comes and asks Pallavi and Nick to hurry up as Dadi is calling them.
They rush and then Nandita tells them Dadi slept. Sonali panicks, and says she asked me to bring Pallavi and Nick. Nandita says she called them for some wedding arrangments but she was so tired that she slept. Pallavi and Nick go to attend guests. Sonali asks Nandita what happened to letter? Nandita says I kept it aside as this letter is an atom bomb and it should blast when everyone gets affected, so the right time is tomorrow when full Meerut will see the drama. Sonali says okay great idea, but Nick and Pallavi were so close today. Nandita says I will handle this.
Later, Nandita tells Nick to stay in hotel and come back with baraat tomorrow as per Dadi's rule. Nick says why all these rules. Nandita says you only wanted the marriage so you have to follow. Nick starts to go when Sonali decides to accompany Nick. Shanky comes and says I am going with Nick. Sonali gets upset seeing Shanky and Nick leave. Next day, Dadi wakes up late and wonders how did she slept for so long. Nandita says it's good as she was so tired.
Pallavi is made ready for wedding when Sonali jokes about how she has already eyes Pallavi's beauty. The kids put kala teeka on her and compliment her. Sonali thinks it will be fun when the letter gets out. Nani comes there and blesses her. Nani praises her and so does Lolita. Here, Nandita asks Dadi to get up as Nick has also come. The baarat comes and they are welcomed. Sonali plans for her drama and plan to get executed. Nick searches for Pallavi when the kids dance and come. They tease Nick about keep waiting. Pallavi enters and Nick gets mesmerized by her
They remember their past moments. They go to mandap. The rituals of marriage starts. Lolita informs Pallavi that the letter of vows is missing.
Episode ends.
Precap – Dadi reveals the letter to Nick infront of all and says Pallavi is cheating him. Pallavi tries to explain Nick but he gets upset and goes inside.
Click to read