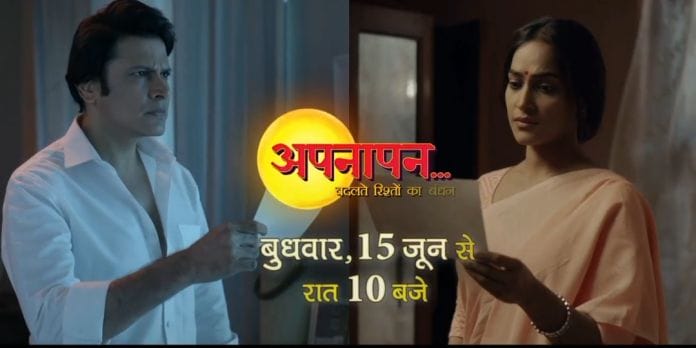 Appnapan 5th July 2022 Written Update on TellyExpress.com
Episode begins with Gagan with his friends and then getting calls from Nani. Gagan ignores it and asks Chintu to call the person with weapon to come soon, Harsh shouldn't be left. Chintu calls the person and he says I am coming. He is about to take a rickshaw when Pallavi takes it so he fights. Pallavi sees Harsh's picture in his mobile screen. Pallavi worries and asks how do you know him? The guy thinks she knows him. The guy runs. Here, Badal is arranging everything and Harsh watches it from far. Ishan gives the required things to Badal and goes. Ishan sees Mana having a drink secretly so he says why are you hiding, this is your dad's restaurant. Mana says Rum is the perfect solution for all my problems, you should have it too it will suite you. Ishan says so you are here to support your dad? Mana says he has hired his son to do the work so I am chilling. Ishan says okay.
Nick greets the critics and says how happy he is that they all came. Lolita tells Ranveer the critics are here and if they don't like our indian cuisine then Nick will fly to the USA then we will be doomed.
Badal comes and checks the main course just then Shanky comes. They see the food and it's all ruined. Shanky questions Badal. Badal says I saw everything it was good, I don't know how it happened, someone is trying to frame me. Shanky says who. Badal says I saw Harsh go out of here. Mana hears it and comes to shout on Badal not to blame Harsh. Ishan calms her and takes her out. Shanky asks Badal to fix it as they have only 40 mins for the main course to get served.
Harsh is walking in a street and gets calls from Pallavi multiple times. Gagan's guys start following him and surround him. Gagan comes and says this is my Meerut so I will show you. They start beating Harsh and they fight.
Here, Nick says please enjoy starters, the maincourse will be here soon. Nandita smirks thinking how she ruined the main course and Harsh has to be here to watch Nick's expressions. Flashback is shown where Nandita is spreading burnt particles and soy sauce on all food and smirking. Flashback ends.
Nandita comes to the kitchen and sees waiters taking the maincourse out, she gets shocked seeing Badal with Pallavi. They go outside. The critics praise the food while Nick introduces Pallavi as the head chef and Badal as assistant. Pallavi greets all and the critics say we didn't know such delicious indian food is served in Nick's restaurant, before this we didn't know this kind of talented chef like Pallavi is here in Meerut. Pallavi thanks them. Pallavi whispers to Nandita if she is missing something? Nandita thinks who called Pallavi here.
Later, Pallavi and Nick go inside the kitchen where they have a fight as Pallavi blames Nick for trapping Badal so that she comes here. Nick says how he took this restaurant for her and wants to promote local chefs like Badal. Pallavi says I don't need any favour of yours, I can handle my kids. Nick says they are my kids too. Just then Barkha and Mana come to tell them that Gagan is beating Harsh. They rush. Gagan beats Harsh's knee and Harsh calls out for mom. Pallavi runs and tries to stop them but they push her and Nick catches her. They get shocked to see Gagan and Harsh fight.
Episode ends.
Precap – Ishan informs Pallavi that Mana has locked herself inside the washroom. They break the door and see Mana fainted on floor.
Click to read