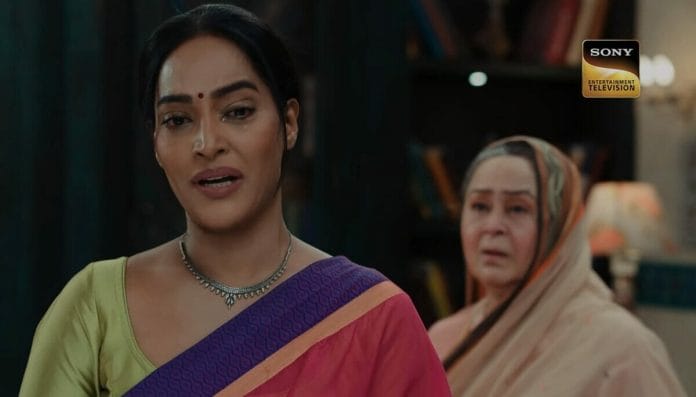 Appnapan Spoilers, Upcoming Story, Latest Gossip , Future Story, Latest News and Upcoming Twist on tellyexpress.com

A major game change in Appnapan, Sonali and Nick are married. Sonali's plan to get united with Nick prevails. This will surely bring in some high voltage interesting drama for the viewers!
Previously in the show, Sonali who had returned in Pallavi's life to take away her peace tries to create lots of misunderstanding between Nick and Pallavi. Sonali made Dadi against Pallavi too. With Sonali unable to see herself get defeated from Pallavi, she used her master card and turned tables on Pallavi.
In today's episode, Nick and Sonali get married. While Nani doesn't bless the couple, Pallavi watches it all with a strong heart. Kids deny to accept what Pallavi did. Later, Sonali deliberately asks Pallavi to leave the house soon and asks her about Nick's preference in clothes. Pallavi makes Sonali realise how she is the second and always takes Pallavi's used things.
This angers Sonali. Sonali waits for Nick and their first night when Nick decides not to show up upsetting Sonali. Here, Nick comes to home and finds Pallavi they have a huge fight over how Pallavi ditched him on the day of the wedding.
Nick goes angrily while Pallavi sits down and cries. Dadi comes to Pallavi and asks her about the nurse who came to the wedding. Dadi reveals how she observed everything and Sonali gave money to that nurse. Dadi makes Pallavi confess about the big incident that happened 18 years back when Pallavi adopted Badal and told everyone she had twins.
Pallavi reveals Badal is Sonali and Nick's child. Dadi gets shocked and feels sad for Pallavi to always accept things and keeping silent. Here, Nick drinks with Shanky as he is devasted with Pallavi not marrying him. Pallavi starts packing her bag and decides to leave.
Pallavi asks Dadi to take care of the kids. Here, the kids get devastated knowing Pallavi left the house. A mystery woman searches for Pallavi and thinks to talk to her.
In the upcoming episodes, Pallavi will inform Sonali about someone following them. At night, the mystery women will scare Sonali.
Viewers are definitely in for a big turn of events as now Sonali got married to Nick. Will Nick and Pallavi's misunderstanding get some conclusion? Will Sonali's true face come out? Keep following this space for more updates on your favourite shows!