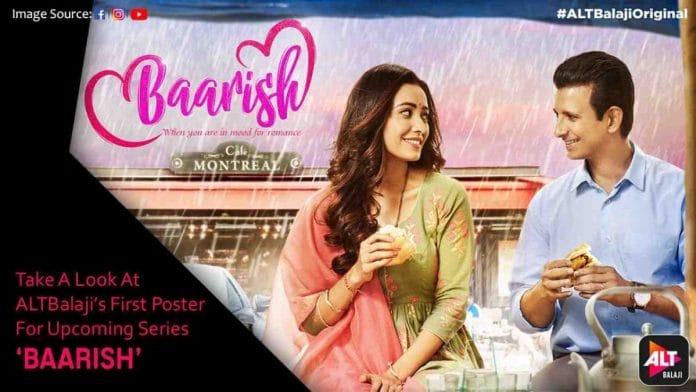 Baarish 15th April 2020 Written Update on Tellyexpress.com
The episode starts with Gauravi gets surprised seeing Asmi as showstopper of Mehta diamonds fashion show than she questions Anuj how Asmi is participating. Anuj says I allowed her, I thought it will be good opportunity for her. Gauravi says you might have informed me, how can you do this.
Anuj says yeah but I thought Asmi will inform you, is their any objection. Gauravi says Asmi didn't informed to anyone in the family and we would have guided her better if we know. Anuj says don't worry,she will be safe. Gauravi gets her mom call. Anuj goes inside and watched the show.
Rishi asks is everything done, his subordinate says just few minutes. Asmi blouse hooks gets break off, she holds the front blouse feeling humiliated. Camera persons clicks many snaps. Anuj immediately goes to Asmi and cover her with his coat and takes her inside. Arzoo informs this wardrobe malfunction incident to Gauravi. Anuj consoles Asmi in the room.
Asmi says in tears she don't know how this happened and she wanted to make her parents proud, Rishi gave me this opportunity but I ruined it. Anuj says nothing happened, it might be good if you inform your family before taking part in this show. Asmi says their blessings are not with me that's why this incident is happened, even media clicked many pics. Anuj says I will manage the media, no photos or videos will get leaked, now you're happy right. Asmi says ok. Gauravi smiles seeing the way Anuj handling Asmi.
Asmi asks jiju why you concerned about me even after your separation with my sister. Anuj says our paths have become separated but our goal is still same. Anuj leaves, Gauravi hides from him and than she goes to Asmi and consoles her.
Anuj questions Rishi that why he didn't take proper care of event ,our family member got humiliated because of your carelessness. Rishi says she is not my family, don't force this relationships on me. Gauravi and Asmi listens their convo.
Anuj questions than why you make her Showstopper when I just asked you to give her oppurnity to walk with other models, did you do this consciously? Rishi says enough, it's your family and I'm not interested in them, so stop blaming me. Anuj says I don't want anyone to point Gauravi hi family.
Driver comes to drop Asmi at home but Gauravi says it's not needed. Asmi says you wanted to meet brother-in-law, right. Gauravi smiles. At present she says thus to lawyer how family is important to Anuj, how he supported them. Gauravi questions do you still feel Anuj is wrong. Lawyer says no madam, when did I say he was wrong, I'm wrong, it's true that person shadow vary according to lights, who will know him better when you're his light. Gauravi says only dark clouds can bring rain, time will answer us.
Anuj sees Gauravi and asks her about Asmi. Gauravi says Asmi went to home with driver and thanks him. Anuj says Asmi is like my sister so it's my responsibility. Gauravi says you didn't changed. Anuj says you want me to get change. Gauravi says, no I'm just thinking how can you be so good. Anuj says what's the use when my destiny won't help me. Gauravi says I will him. Anuj offers to drops her and takes her to have Vaada pav and tea and reminsces how their journey started.