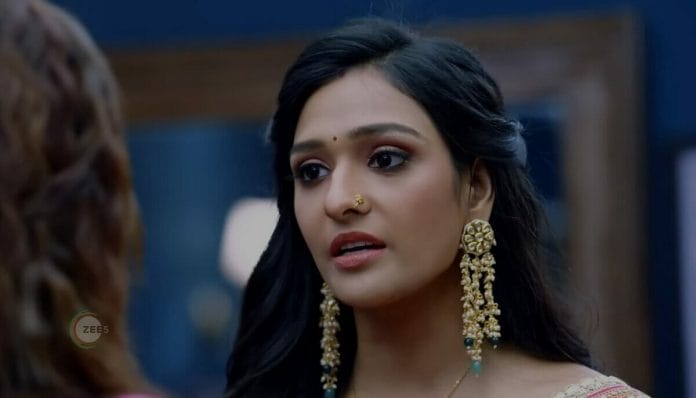 Bhagya Lakshmi Spoilers, Upcoming Story, Latest Gossip , Future Story, Latest News and Upcoming Twist on tellyexpress.com

Zee TV popular show Bhagya Lakshmi is attracting viewers with an interesting storyline where Sonia and Malishka instigate Neelam against Lakshmi has glued the audience to the screens.

As reported earlier Malishka and Sonia bring a mutter paneer plate to Lakshmi's room. Just outside Lakshmi's room, Sonia asks Malishka what are they going to do with this plate. Malishka reminds Sonia about their plan. Malishka and Sonia enter Lakshmi's room and see that Lakshmi is sleeping.
Malishka applies Paneer essence on Lakhsmi's lips and her hands. Shalu comes and sees Lakshmi sleeping. Malishka and Sonia hide behind the bed. Dadi comes to wake up Lakshmi saying the Pujarin came. Lakshmi wakes up and Dado asks Lakshmi to come downstairs. Lakshmi sees the plate and they talk about it.
After they leave. Malishka and Sonia come out and celebrate thinking Lakshmi is going to make a fool of herself.

Lakshmi comes downstairs. Malishka and Sonia follow her. Neelam asks Lakshmi to take Pujarin's blessings. Lakshmi takes Pujarin's blessings. Pujarin says to take Neelam's blessings. Lakshmi takes Neelam's blessings. Neelam senses the smell but doesn't react. Malishka and Sonia think of why didn't their plan work and decide to instigate Neelam against Lakshmi.
Sonia calls Neelam to a side. Sonia and Malishka try to convince Neelam that Lakshmi didn't do the Vrath.
In the upcoming episode, viewers going to witness Neelam comes to Rishi's room and notice Shalu taking the paneer roti plate. She comes downstairs and scolds Lakshmi for feigning fast infront of everyone.
Neelam will tell Dadi that she will not give any chance to Lakshmi anymore and will throw her out today itself. Lakshmi will tell Malishka to stay within her limits. She says Rishi can be your friend but he can't be your husband.

Can Malishka get successful in her plan? Will Lakshmi be able to prove her innocence?
All these questions will be answered in the upcoming episodes.
To know what will happen next in your favorite show, keep checking this space for new and exclusive updates.