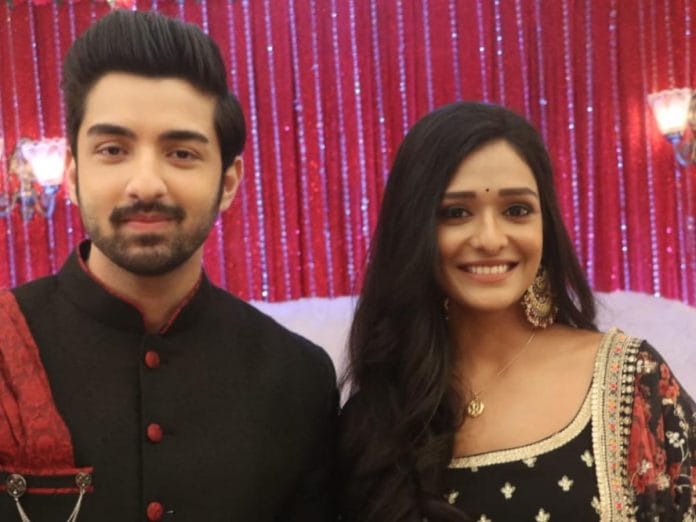 BhagyaLakshmi 20th November 2023 Written Update On TellyExpress.com
The episode starts with Lakshmi placing her hand out of the running car. Rishi stops her. He admires her antics and helps her. Virendra coughs. Lakshmi asks Rishi to make Virendra drink Kadha to settle his cough. Virendra recalls his past moment with Lakshmi. He tells Lakshmi that he will drink kadha after reaching home.
Ayush consoles Shalu and Bani. Heer video calls Shalu. Shalu picks up the call. Heer asks Shalu why Lakshmi is not answering calls. Shalu says Lakshmi got married. Heer says it's happy news and asks why she looks dull. Shalu tells Heer about Lakshmi's mental instability. Heer comforts them with her words and tells them Lakshmi will recover soon. Shalu and Bani thank Heer.
Neelam asks Karishma to call Rano home. Dadi asks what's the matter. Neelam says she will later. Karishma calls Rano and asks her to come to Oberoi's house.
Malishka and Sonia discuss that God gave a good punishment to Lakshmi, but still, Rishi is not leaving Lakshmi. Rano comes to Oberoi's house and asks Neelam what happened. Neelam says she will tell once Rishi returns home.
Lakshmi, Virendra, and Rishi come to Oberoi's house. Lakshmi sees the house and feels scared. Rishi supports her and tells her to not get scared. He takes her inside. Lakshmi feels scared seeing family members. She says they will beat her. Rishi assures that he is with her and nothing will happen to her.
Virendra asks Neelam if her health is fine. Neelam says she can't eat anything until he breaks her fast. Neelam asks him what happened at the hospital. Rishi tells Neelam how he stopped Lakshmi's treatment at the hospital and now Lakshmi will be treated at home under expert supervision. Sonia asks if he brought Mad Lakshmi home. Rishi warns her to not call Lakshmi mad. Neelam takes Sonia's side. Rishi rebukes Neelam. He warns everyone to never call Lakshmi mad. Neelam declares Lakshmi will not stay at their house. She says it's good if Lakshmi stays in the hospital. Neelam and Karishma ask Rano's opinion. Rano says she can't tell. Dadi asks Karishma to not involve Rano.
Karishma says it's risky to keep Lakshmi at their house. Virendra says they can take care of Lakshmi. He asks Karishma to think positively. Dadi supports Virendra. She asks Neelam to not become bad again. Neelam tells her point of view. Rishi says to Neelam that he can't stay here without Lakshmi so he will leave the house along with Lakshmi. Everyone gets shocked.
Kiran says to Sonal that Malishks is giving her a headache. Sonal asks her to feel relieved and tells her that Malishka is safe as Lakshmi has become mentally unstable. Kiran says thank god but why Malishka didn't come home? Abhay and Sonal say Malishka has some plans.
Karishma asks Rishi why he is saying this way. Rishi asks Virendra if something like this happened to Neelam will he leave her. Virendra says he would never leave her. Rishi says just like that he can't leave Lakshmi and says he made a promise to Lakshmi that he will always be with her. Lakshmi tries to take Rishi away from the Oberoi mansion. Malishka stops Rishi. She asks Rishi and Lakshmi to come to her home. Rishi thanks Malishka and says he doesn't want to trouble her. Malishka says it's not trouble for her family and pleads with Rishi to agree to her request.
Episode ends.
Also See: