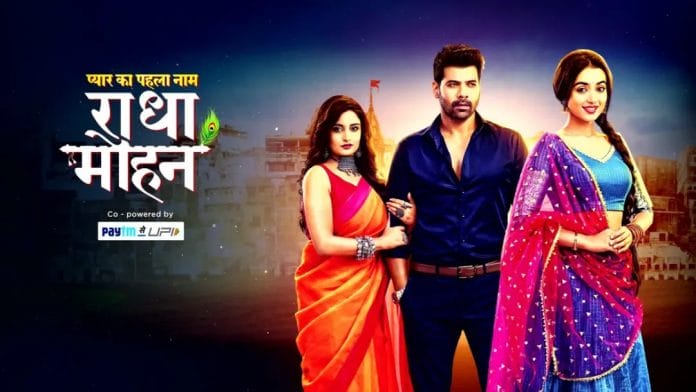 Pyar Ka Pehla Naam Radha Mohan 20th November 2023 Written Update on TellyExpress.com
Episode begins with Radha takes Lord Krishna's food from her bag. She tries to see if anything else is there in the bag. But Tina stops her. Radha does puja and eats. She and Mohan feeds each other. Damini gets irritated seeing this. She thinks that it would have been good if Mohan feed her. Terrorist refuses to give food to pregnant lady. Pregnant lady's husband gives his food to his wife. Terrorist snatches the food from him and tells him to stay hungry with his wife.
Kadambari asks that how can they do this with pregnant lady. Mr. X says that this is pregnant lady's punishment. Kadambari asks Mr. X that how can the latter fail to understand pregnant lady's situation. She taunts Mr. X. Radha asks Kadambari to sit down. Mr. X laughs. Bunty snatches the food from Kadambari and tells her to stay hungry. Mohan scolds Bunty. Tina threatens to kill Radha. Everyone sits in their seats.
Pregnant lady tells her husband that she is hungry. Her husband tells her that he is not understanding what to do. Mohan asks Kadambari that what she will eat now. Kadambari tells him that she ate little bit and she is worried about Pregnant lady because it's not good for her to stay hungry. Radha tells Kadambari that she will do something. Damini hears this. She thinks that she want Radha to act oversmart and Terrorists kill Radha.
Kavita asks Ketan that if Terrorists contacted them. Ketan tells her that they did not. He says that seems like they jammed incoming system so they can't contact Terrorists. In the Trivedi house, Tulsi asks Lord Krishna that why his family is facing problems. She says that she can't help her family again. She pleads him to save her family and others.
In the flight, pregnant lady tells her husband that she is worried that her child is starving. Kadambari murmurs to her that she will give laddus to her. Pregnant lady tells her that Terrorists won't let her eat. Kadambari tells her that she will handle everything. Mohan tells her that this is risky. Kadambari refuses to listen him. Radha tells Mohan that Kadambari understands mother's pain being mother. Damini wonders what are they talking about.
Kadambari says that she has diabetic and she will die if she don't take her medicine then. Mr. X gives permission to Kadambari. Kadambari takes laddus from her bag. Damini sees this. She signals Mr. X.
Pregnant lady apologize to Kadambari for misunderstanding her. Kadambari is about to give laddu to Pregnant lady but Bunty stops Kadambari and twists her hand. Radha tries to stop Mohan from reacting. Mohan pushes her and strangulates Bunty. Trivedis tells Mohan to leave Bunty. Mohan leaves Bunty. Radha tells Mr. X that Lord Krishna won't spare the latter. She says that Mr. X won't even get place in hell. Mr. X tells her that she is not weak like the latter. Radha tells her that Kadambari showed what braveness is.
Pregnant lady tells passengers that Damini lied about Trivedis. Passengers agrees with Pregnant lady. They says that Damini is Terrorist's accomplice. Damini says that she did nothing. Mohan taunts Damini. Bunty tells them to stop it. Mr. X tells Bunty that they have to do something with Radha and Mohan.
Episode ends.
Also See: