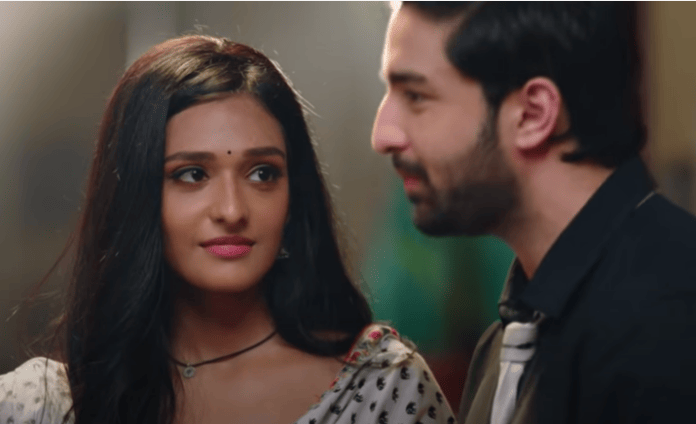 Scene begins in Rishi gets panic seeing his mom's state. Doctor checking her. Ayush touches his shoulder and shares to him that he might choose his mom over love it seems. Rishi sees him in helpless way. Ayush asks him Is his unknown dream girl important to him then his mom? Doesn't mom always thinking about his future and prays for his safety. She is taking fasting and doing pooja to save him from all problems. But he simply rejecting his mom love for his feelings on that girl whom he didn't meet yet. Rishi shares to him that he is not ignoring his mom's love on him but he fell for that girl whom loved him truely but didn't confessed it. Ayush adds that he can able to understand his pain but she don't have dare to confess her feelings to him. But what about Neelam? She is sick and adamant to don't take food and medicine till he agree to marry Lakshmi. Rishi says that Lakshmi is reason for everything. He shouldn't have bring her home she impressed her that's why she is adamant to arrange his marriage with her. He says that he is not gonna leave her. If she refuse to marry him then mom won't be adamant and force him to marry her.
He rushes to her room not giving heed to Ayush. He notices Lakshmi is staring stars in sky. He asks her Is she happy now after snatching his peace from him? Lakshmi shares him in confusion. He lashes out at her for agree to marry him. Lakshmi feels hurt when did he talked in that manner to her. Lakshmi wipes her tears. He stops seeing her in tears eyes. He apologizes to her for hurting her but asks her to understand him its hard to explain her about his situation.
Lakshmi asks him to listen her two minutes without getting angry. Rishi nods to her. She narrates to him that she refused to marry him first but Neelam explained to her that Rishi's horoscope saying he will meet with many dangerous situation only her horoscope can able to protect him from all. When did mom cried to her she agreed to marry him with a condition he wanna say yes to this alliance first. But Neelam falls on her feet making her surprised and pleaded her to save her son. Lakshmi shares to Rishi in tears that she couldn't deny her request. As a mom she is fighting hard to save her son from all danger. She agreed for her only. Rishi feels heart broken hearing his mom's condition. Ayush rushes to Rishi and tells him mom's condition getting worst. He rushes near her and promised her to marry Lakshmi giving happiness to her. Neelam hugs him in happiness.
Screen froze
Also See: