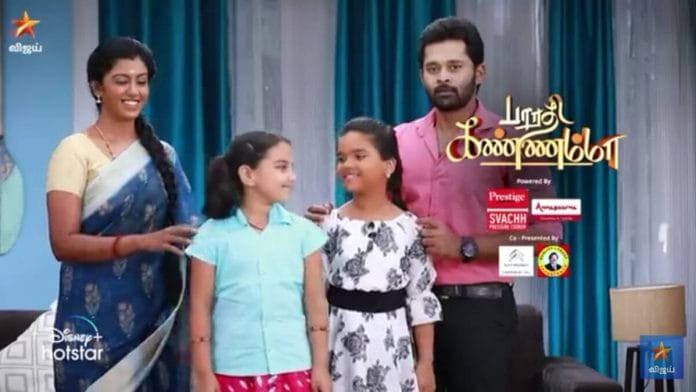 Bharathi kannamma 14th January 2023 Written Update on TellyExpress.com
The episode starts with Paandi attacking Bharathi in the Wrestling match. Bharathi falls down. Meanwhile, Soundarya feels dizzy. Glass slips down from her hand. Anjali comes there hearing the sound. She asks her what happened? She tells her that glass slips down from her hand. Akhil complaints to Soundarya that she isn't taking a proper care on her. She is always worried about Bharathi. Soundarya says that glass shouldn't break in such auspicious day. It's a bad omen. Akhil tells her nothing like that. Soundarya says that something is keep bothering her. She wishes to talk with Bharathi once to confirm he is safe. Akhil asks her to stop worrying about him and leaves. He asks Mallika to clean the place. He asks Anjali to take care of mom.
Ganapati asks Bharathi to get up. Villagers claps for Bharathi to encourage him. Bharathi gets up surprising Paandi. He starts attacking him in anger. Paandi falls on Kannamma's feet. Villagers are clapping for him. Bharathi demands Paandi to apologise to Kannamma. Villagers are forcing him to apologise to her. Paandi apologize to her. Paandi's men hides the tools behind him. After Kannamma walks away from there. Paandi beats Bharathi from behind. Bharathi falls down unconscious. Kannamma rushes to him. Villagers chases Paandi and his men's. Ganapati takes Bharathi to hospital.
Mallika brings food for Soundarya. She complaints to Akhil that she isn't eating anything ftom morning. Akhil assures her that he will feed her. Soundarya refused to eat it. Soundarya says that she is feeling something strange. Something happened to Bharathi in that village. She is able to feel it. She decided to meet Bharathi. Akhil tries to stop her reasoning there is not enough facilities to stay in that village. He is adjusting to stay there. Soundarya is adamant to meet him.
She asks them to accompany her or else she will go alone. Meanwhile, Ganapati takes Bharathi to the hospital. He admits him in the hospital.
Ganapati wishes to inform Soundarya about it. He cries in the phone. Soundarya asks him what happened? Ganapati reveals everything to him in phone. Ganapati shares the location with him. Akhil inquires him about his health. Ganapati says that treatment is going on. Akhil asks him to inform him first if doctor said anything to him. Soundarya regrets for not meet him. He worries about him. Meanwhile, Kannamma worries about Bharthi's health. She says to Shanmugam that Bharathi poke his head in her matter unnecessary. She has problems with that Paandi. What's the need to poke his head in it. She adds that she made him confess the truth in front of everyone. Though he poked his head in it unnecessary. She lashed out at Bharathi for fight with the goons for her. She adds that she doesn't want to see him fighting with him for her. She complaints that still she couldn't forget the way he was bleed. Villagers will badmouth about her for being adamant. Tamarai inquires Shanmugam did Paandi was caught? He nods with her. Neighbour informs to Kannamma that Bharathi is in critical condition. Lakshmi cries hearing it. She says to Kannamma that she needs father. She assures her nothing will happen to him.
Episode end