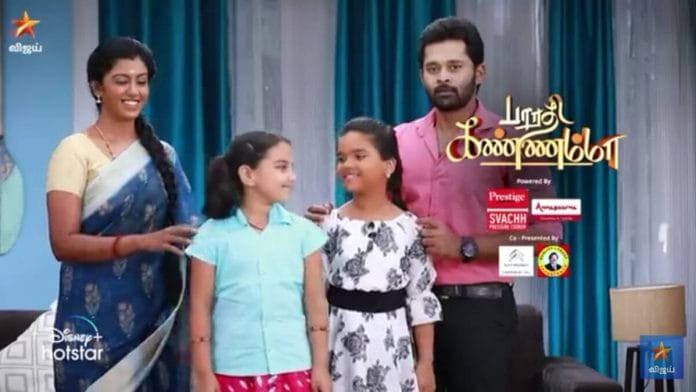 Bharathi kannamma 20th September 2022 Written Update on TellyExpress.com
The episode starts with Rathnam informing to Jessy that he decided to start his operation. They wants to be in their position. He asks them to don't take any decisions without his order. Lets attack them together. She assured to him. Later, Jessy shares with media people that Terrorist are watching their live telecast. So their news helping the terrorist to take another steps against our government. She requests them to stop the live telecast for few hours. Media people assured to her. Later, Saho informs to Rathnam that everyone assembled here. Rathnam demands Saho to watch the 7875 channel. Saho gets shocked seeing Sakthi's mom pleading with him to stop this mission. He shouldn't harm anyone else. She asked him to consider them as his brothers and sisters. Saho questions Sakthi how comes police find out his background? Sakthi shares with him that he doesn't know what happened? How come his parents learnt about him. Saho shares with him that someone leaked his details to police.
Saho fixed bomb on Bharathi and says with him that Government is not ready to listen their demands. If they don't listen to them then it's their loss. He will blast this hospital and teach a lesson to them. Bharathi didn't give heed to them. Meanwhile, Police entered into hospital using back door. They attacks few terrorist. One of them gets information about Police and alerts the remaining terrorist. Kannamma finds out the situation is favour to them. She pushes the gun away from the Terrorist and pulls him down. Police entered there and shoot at him. Jessy takes the hostages from there. Saho meets Bharathi and informs him that police take a wrong decision by entered into Hospital. He activate the bomb on him and asks him to die along with everyone here.
Kannamma asks Anjali to take kids out from here. She wants to find out Bharathi. Anjali refused to go out reasoning Akhil also missing. She wants to find him out. Kannamma asks Vedhachalam's wife to handover her kids to her grandmother. She may be waiting for them outside. She assured to Kannamma. Lakshmi and Hema cries for her. Terrorist and police force starts attacking each other. Meanwhile, Kannamma and Anjali are searching Bharathi everywhere. Selvam starts attacking Rathnam and hostages. Rathnam demands Selvam to surrender reasoning he can't able to escape from them. Kannamma and Anjali hides from Terrorist sight. Selvam set fire on stairs to prevent Police reach them.

Saho keeps Lakshmi and Hema under his custody and threatened Rathnam. Kannamma demands Anjali to search for them separately. She is scared to go alone but she motivated her to do it. Finally Kannamma finds Bharathi was tied in store room.
Kannamma gets emotional seeing him in that state. She wakes him up. Bharathi inquires Kannamma about kids. She assured him that they were safe. Anjali went to search for Akhil. Kannamma search key to unlock his hand. Bharathi demands her to leave from there but she is adamant not to leave. Anjali finds Akhil. She released him.
Episode end