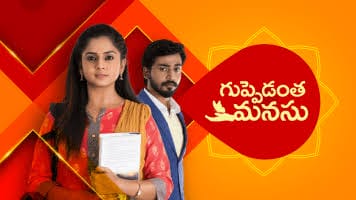 Guppedantha Manasu 20th September 2022 Written Update on TellyExpress.com
The episode starts with Rishi saying to Vasudhara that he knows what happened so he doesn't need any explanation, Dad did a mistake by asking Gurudakshina from you, and my love for you and my opinion on Jagathi madam won't change. He asks her to not consider him Jagathi's son. He says he is feeling bad to say it but your word to Dad and your wish while flying lantern may be correct to you but once think and tell me later. Vasudhara tries to talk but he doesn't let her talk and asks her to think about it. She is about to step onto the throne on road. Rishi stops her and indirectly warns her to stay away from problems and tells her that he will wait for her call. They leave in Rishi's car.
Devayani scolds Dharani for feeding sweet curd to Vasudhara. Jagathi comes there. Devayani complains to Jagathi that Dharani is becoming another student like Vasudhara. She warns Dharani to be within her limits to stay in their house. Mahindra asks what's happening. Devayani says I'm scolding Dharani for giving sweet curd to Vasudhara. She says they will know what she can do very soon and leaves warning Dharani to remember her warning. Jagathi and Mahindra ask Dharani to not feel bad.
Vasudhara struggles to remove her seatbelt then Rishi helps her. Both lost in each other. Vasudhara asks if he comes to the restaurant in the evening? Rishi asks her to leave about the restaurant and tells her to not influence him in some matters and advises her to think from his angle to avoid disturbances in their relationship. Vasudhara thinks I know that you're talking about Jagathi madam.
Mahindra says to Jagathi that don't know where Rishi went and he didn't return till now. Jagathi says Rishi pointed out your love but you didn't get angry at him and this is real love. Mahindra says I felt bad but I love him. Jagathi says Rishi hates her. Mahindra assures her that Rishi will call her mom soon. Jagathi says I don't have that much expectations and hope it won't cause disturbance in Vasu and Rishi's relationships and I just want them to be together. Mahindra says I'm scared of Rishi's anger and hope he won't lose Vasu. Jagathi says Vasu knows how to handle Rishi's anger. Mahindra says I'm feeling guilty to take a word from Vasudhara. Jagathi says they will pass this tough time if they are strong from inside but I'm scared of Devayani sister and hope she won't use this in her favor. Mahindra says let's see what happens.
Rishi thinks Jagathi can't be his mom and she is just the wife of my dad and Vasudhara's wish won't get fulfilled. Vasudhara thinks I will make Rishi accept Jagathi madam as his mom by making him realize her importance. Rishi thinks no one can influence him in Jagathi matter and if Vasudhara loves me then she has to understand my heart. Vasudhara thinks I understand Rishi's heart. Rishi thinks I won't change. Vasudhara thinks Rishi will change and I know him better than him. She sees Rishi's photo and thinks she won't leave Jagathi matter and Rishi. She decides to make Rishi call Jagathi as mom soon.
Gautham asks Mahindra if Rishi called him. Mahindra says no. Gautham asks why he looks dull. He says he is fine. Rishi returns home. Mahindra thinks Rishi is angry so he may not talk with me. Gautham tells Rishi that they are talking about him.
Episode ends.