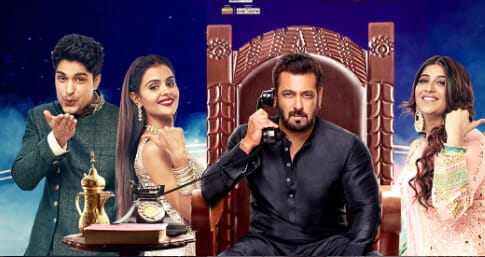 Bigg Boss 16 3rd January 2023 Written Update on TellyExpress.com
Today's episode start with Day 94 at 8 AM: inmates gather to sing bigg boss anthem.
9:15 AM: Tina asks Shalin to ive her multivitamins. Shalin ignores. Tina calls him mean.
9:45 AM: Archana tells to Sajid that Priyanka ha many avocado and dragon fruit but she didn't give to any.
Tina asks Archana to tell once she is done with cooking. Archana says to Tina that she cleaned the kitchen also. Tina asks Archana to tell if she wants to cook breakfast. Archana says Tina is late because her romance doesn't end. Tina says Archana never went to co-ed school thus she has a problem if she hugs Shalin. She adds Archana and Soundarya hug too that means they are doing romance. Soundarya asks Tina not to drag her. Archana and Tina argues with each other.
10 AM: Soundarya, Nimrit, Archana discuss about Tina's accusation.
10:30: Tina, Priyanka discuss about Archana.
10:45 : Sajid says to Shiv that Priyanka, Tina is making Archana a star. Shiv disagree with Sajid. Tina gets maahim.
11:45 AM: Shalin and Tina disucss about Archana, Soundarya. Shalin claim Soundarya was getting intimate with Gautam but now she is raising question on them. Tina agrees.
Later, Sajid says Stan or Abdu will become captain. Abdu and Sajid play with each other. Shiv and Stan enjoys.
2 PM: Priyanka says to Shiv whosoever is making food will ask everyone. Nimrit argues with Priyanka. Sajid says Priyanka and her team will fight soon and will try to enter mandali. Nimrit says time is near.
3:15 PM: Bigg boss explains captaincy task. Abdu, Priyanka, Stan and Nimrit gets a chance to get the captaincy.
Sajid become the dictator. Nominated contenders have to collect ball for Stan, Abdu, Priyanka and Nimrit.
3:30 PM: Task starts. Tina and Shalin whispers. Bigg boss evict Tina and Shalin for whispering. Soudnarya manage to get the ball. She supports Abdu.
Shalin manage to get the ball. He supports Priyanka.
3:45PM: Shalin manage to to get a ball for Priyanka.
Bigg boss pulls Tina and Shalin's leg. Soundarya and Nimrit decide to equal Abdu's basket as Priyanka. Shiv manages to get a ball. He supports Abdu.
Shalin manage to get a ball for Priyanka.
Stan tells to Sajid that Priyanka is sitting in the basket. He says Abdu can sit because of his height.
Sajid asks Priyanka to come out from the basket. Priyanka argues with Sajid for making new rule.
4:30 PM: Sumbul manage to get the ball. She supports Abdu. Sajid and Stan laughs. Priyanka and Sajid argue for being biased. Sajid says being sanchalak he can disqualify Priyanka. Tina and Priyanka ask Sajid not to threaten and disqualify. Sajid argues with each other.
Tina and Sajid argue. Sajid says suddenly Tina, Priyanka and Shalin are against him. Tina and Sajid argue. Sajid asks Tina to not question his intention. He claims he is an open cheater. Tina and Priyanka argue with Sajid.
4:45 PM: Bigg boss says captaincy contenders can compete with each other for captaincy. Stan and Priyanka argue with each other.
Soundarya asks Sajid not to give footage to Tina. Task ends, Abdu becomes the captain of the house.
5 PM: Sajid talks with Nimrit, Sumbul, Stan and Shiv that Tina will apologise now. He says the other team has a bad luck as they can't become captain. Nimrit laughs.
Tina confronts Sajid. Sajid asks Abdu to save Sumbul from nomination.
7 PM: Archana says to Abdu that washroom is not clean and powder room too. She says Stan isn't performing his duty. Shiv says even Archana didn't cleaned captain room. Archana and Shiv argues with each other.
Shiv calls Archana lazy. Archana argues.
Sreejita, Shalin, Tina and Priyanka say Archana is arguing because she is nominated. Shalin asks Sreejita to go. Tina gets angry.
Sreejita asks Archana if she is fighting with Shiv for footage. Archana asks Sreejita not to jump into a conversation for footage.
Other side, Shalin argues with Tina.
Archana asks Abdu being a captain he should look after who is performing a duty or not. Abdu side Stan.
7 PM: Shalin says Tina has attitude. Tina gets angry and throws Priyanka's bottle. She throws her mike and cries.
7:15 PM: Nimrit says to Shiv that Archana is poking him unnecessary. Shiv says he will give back to Archana if she will poke.
Shiv and Nimrit asks Archana to directly talk with Stan. Archana calls Stan lazy for not performing duty. Stan and Archana argue with each other. Archana calls Stan cheap. Stan calls Archana shemdi. Archana asks Stan if he don't have a mother post he comments on her mother.
Sajid asks Stan to take a break from Archana's fight.
Later, Archana argues with Shiv. Stan talks with Sajid and says Archana wants footage from him.
Alarm ring for Sumbul. Sajid asks Sumbul to wake up. Sumbul sleeps.
Archana asks Stan respect everyone's parent. Sajid and Soundarya ask Archana to calm.
Shiv and Stan talk with Archana. Sajid tries to relax Archana.
Shiv claim Archana provoke Stan. Nimrit, Sumbul and Stan agree with Shiv.
Archana says to Sajid that she is silent because of Salman else she would have tear apart Stan for her behaviour.
Sajid asks Archna to calm.
9:15 PM: Shiv asks Abdu to check the toilet. Tina asks Shiv not to clean washroom late at night.
Saijd, Sumbul and Nimrit asks Stan to eat food. Stan gets adamant not to eat food.
Shalin and Tina tries to resolve their issue. Stan decides to take volunteer exit. {Episode Ends]
Also Check: