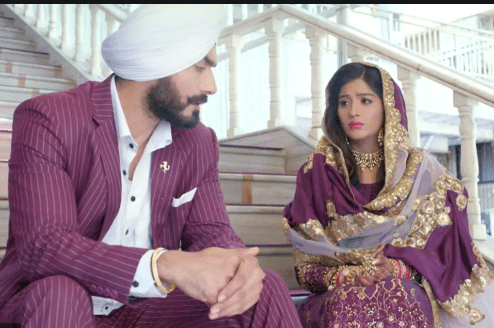 Today's episode begins with Sarab looking at all the photos along with Meher and recollects all their memories.Yuvi says nine tables to Jeeto and Amrita is surprised.He tells her Jeeto taught him to count toffees in the order of table 9.Rana asks how come knows 9 tables and Yuvi demonstrates her teaching method and says its easy.Jeeto tells him they will learn10 tables tomorrow with Samosas.He run happily to play.Amrita thanks her.
Meher gives haldi milk to Sarab.Sarab asks her to give him sometime and he will settle her in a place where there is no danger and no one can find her.Meher tells him he has already fulfilled his promise.She asks him if he remembers the promise he made to her on the day in Gurudwara.Flashback shows him making her a promise that he can live in his house without any disturbance.Meher asks if she can stay in this house permanently by being just Param's Meher mumma.Sarab looks at her for a longtime then tells her its late and she should get some sleep.He leaves without giving her a reply.
Amrita makes pakodas and Kulwant asks what is special Jeeto says her parents have come and asks her to meet them.Kulwant taunt her as usual.She goes to the living room and starts to taunt them that they are here to eat looking at all the snacks in front of them.Kulwant insults them when they tell her they came to give their wishes for Meher and asks how she is.Kulwant tells them she is fine and now leave.They leave.Bittu yells at Kulwant for misbehaving with his in laws.
Robby is shocked to see police sitting in the living room and everyone in family already present there.Param tells Robby he is going to jail.Robby gets nervous Param says in game as he will be police and Robby will be thief.Robby gives excuse of not feeling well.Harleen calls Robby and tells him the police has finished investigating them now its his turn.Police shows Robby the photos of goons who attacked Meher and asks if he recognize them.He says no.Sarab says they have also caught the goons in Serbia and they are all in jail.Robby asks if they said anything about who gave them orders.Police informs him that they will know shortly after they do the Narco test on them.Robby gets nervous and Jolly asks if he is alright.Robby assures him he is fine.
Kulwant scold Bittu for raising his voice on her.Bittu says she has crossed all limits and he wants his share of the property.He asks her to divide the property into 4 and give to his siblings and him.Amrita is astonished.Yuvi asks Bittu where his share is.Amrita scold him.Yuvi says he will break those who hurt his Jeeto Chachi.Kulwant remains shocked.
Sarab goes to Meher's room and she is drying her wet hair in a towel.He slips and she catches him.They share on eyelock.They both apologize.Sarab asks her to get ready in 10 minutes as they are going somewhere.Meher says he hasn't given her a reply for her question.what does his silence means.Sarab tells her she will get to know the reason for his silence once they reach the destination.Episode ends.
Precap – Nurse asks Meher what is the baby's father name.Sarab says Sarabjit Singh Gill.He tells Meher her baby will come to this world bearing his name.They are in ultrasound room and Meher is happy.