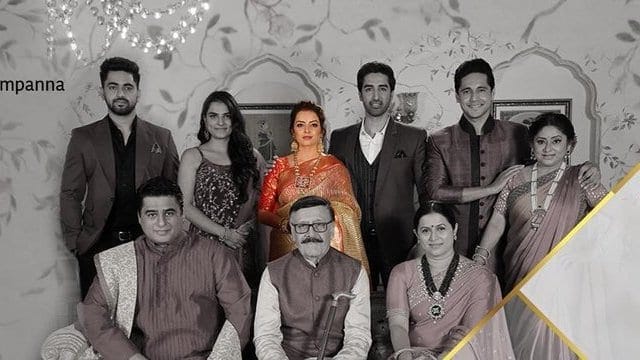 Jhanvi is leaving no chance unturned to play her cards. Ahead she will challenge Manohar, who knows her real name and identity but Dhruv will come there at the same time and with this drama to galore more in Star Plus Ek Bhram- Sarvagun Sampanna.
In the episodes, Manohar is blackmailing Jhanvi for money as he learned Jhanvi's truth. Manohar knows that Jhanvi is Pooja who came to Mittal's house for taking her revenge. Manohar interference was irking Jhanvi and she called him to meet her.
Otherside, Kabir and Kavya fights when Kabir comes to know that Kavya has sent his mother's medicine for testing. Kabir shouts on Kavya for doubting Jhanvi. Jhanvi smiles and later asks Kabir to understand Kavya's point of view. Jhanvi takes promise from Kabir that he will not shout on Kavya. Later, in flashback, Jhanvi smirks that she has kept original medicines to her MIL room and high dose medicines are with her.
Kavya slips down because of the skates and Kabir holds her. The duo share an eye-lock moment. Jhanvi goes to meet Manohar and here, Dhruv decides to track Jhanvi and give her surprise.
Now in the upcoming episode will see, Jhanvi will meet Manohar in a different avatar. She will lash him for threatening her. Jhanvi will challenge Manohar and decides to leave but at the same time Dhruv will make his entry and will get suspicious about her behavior. He will question Jhanvi for her behavior and later Dhruv will surprise Jhanvi in a special way. As per the sources, otherside Kabir and Kavya will come closer and will share romantic moment.
What Jhanvi will do next and how she will manipulate Dhruv will be interesting to watch. How excited you all are for this upcoming, leave comment.
Stay tuned with us for more updates.