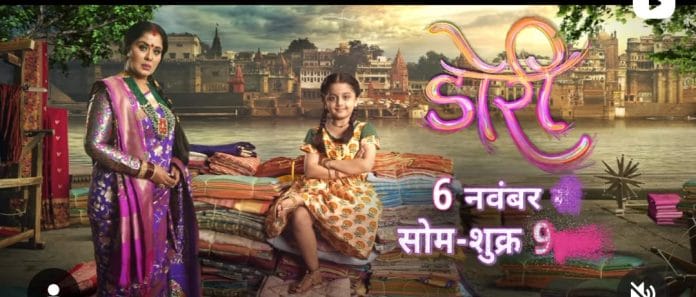 Doree 14th November 2023 Written Update on TellyExpress.com
The episode starts with Doree praying to God to save her from the lizard. Vansh tells her it's a plastic. He asks her what she is stealing from his house? She says that she isn't a thief. He says that she is a liar. She argues with him. He asks her what she stole from the dining table. She says that she came here to get the bag. Mansi mistakenly took it with her. She pushes him away and runs from there. Kailash Devi says to Anand that this deal is very important to them. He shouldn't miss this chance. He assures her. Doree locks herself in the room. Vansh asked her to open it but she didn't listen to him. Vansh takes Kailash Devi from there. Doree felt hungry. She sneaks into the washroom to drink water. She mistakenly turns on the shower. She gets drenched there. She shouted for help. Someone opened the door. She gets surprised. Meanwhile, the priest asks Kailas Devi to give the jewels to place in the pooja. She says that it is in her room. She will bring it. Vansh thinks that he has to deal with Doree alone.
Ganga Prasad is searching for Doree everywhere. He worried about her. Later, Mansi helps Doree to dry her hair and dress. She asks her if she had come here to get her bag back? Is it important to her? Vansh notices Doree is missing in the room. He thinks where she is going? Mansi consoles Doree and hugs her. She asks her what was in that bag? Doree says to her that it's her only thing. Nani said like that. She didn't allow her to meet Ganga Prasad. She said to her that she was an orphan. Her parents threw her into the river Ganga. She asks Mansi why they are doing that to their child. Mansi says that they may be in an unfortunate situation. They were forced too. Krishna has two mothers. She may get Yasodha's mom's love. She consoles her. Doree asks her if she can find her parents. Ganga Prasad feeds sweets and food to her with his hands. She shares her grief with her. She asks a few questions. Mansi feels helpless to answer her. She hugs her to comfort her. Ganga Prasad searched for Doree. She prays to god for her. He shares with the god that he failed to protect his child.
He prays god to help him to find her asap. Mansi says that mom is great who gave birth to her. But the person who considered her as his own daughter and takes care of her is greater than her birth parents. She had to be with him. She says that she is right. He may be searching for her. Mansi says that she will bring prasad for her. Doree says that she is starving. She needs something to eat. She asks her to give a little to her father too. He won't eat without her. Mansi says that the driver will drop her at home. She asks her not to come down. Children is not allowed today. She asks her about it. She recalls her daughter. Vansh is about to open the door. Raj takes him from there. Kailash Devi makes sure with Raj that there is no girl in that house. She says that her elder grandson Vansh's face might be reflected in the mirror. Komal should give birth to a boy. She needs two grandsons. Nothing should go wrong here. Raj assures her.
Anand notices Mansi is in the kitchen. He scolds her for wasting her time there instead of greeting the guest. She thinks that Doree is alone in the room. She shouldn't have been scared. Vansh thinks that the pooja begins. He wants to find the girl. Doree thinks that she is getting late. Ganga Prasad may be waiting for her. She came out of the room. Vansh notices her and fights with her. She bites his hand and runs away. Everyone is shocked to see Doree there.
Episode end
Kailash Devi demands Anand to kill Doree
Click to read