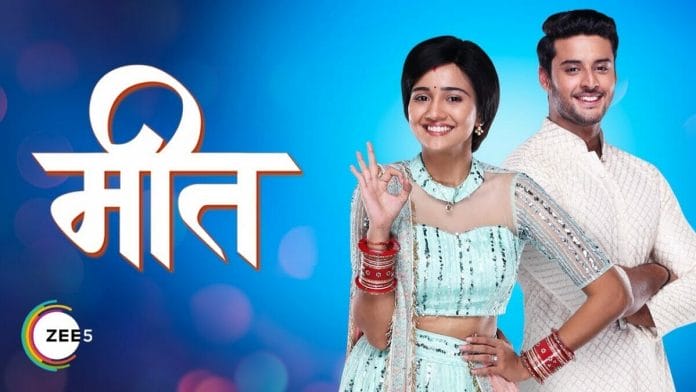 Meet 14th November 2023 Written Update On TellyExpress.com
The episode starts with music company producer questioning Sumeet why Shlok is not able to sing. Sumeet says she will talk to him and he will do his best today. Sumeet tells Shlok that he needs to show his best and sing for his beloved ones. Producer says about technicians asking to pack up. Sumeet tells him to give one last chance to Shlok. She asks Shlok to forget there is anyone else in the room and feels it's only him and her there. Shlok sings beautifully and everyone gets impressed. He successfully records the song and they applaud for him.
Shlok smiles happily and Sumeet hugs him. Shlok and Sumeet return home and finds lights turned off. All their family remembers come there and cheer for Rockstar Shlok and they have decorated the walls with Sumeet and Shlok's photos. Shlok asks what all this is for. Raj and Rajeev tells Shlok that Mr Ambani informed him that his new song's teaser is already being loved by the audience and has crossed millions of views already. So his Producer wanted to keep party for this success and informed them.
Raj tells Shlok that even Shagun could not stay infront of his success. He tells how Shagun's company has closed down and she has fled to America with Raunak. Poonam tells Shagun gave them so much pain and it's good that she left. She tells everyone to get ready as Mr Amani must be coming there with media. Sumeet tells them to wait for a while and brings Pankhuri there. Raj and Priyanka recalls how Pankhuri misbehaved with them. Poonam says Pankhuri does not have right to join the happiness of the house. Sumeet convinces them Pankhuri is also a part of the family.
Shlok asks if Sarthak, Raj and Priyanka can forgive Pankhuri. Sumeet tells them that it will be difficult for three of them to forgive her but if not Pankhuri will suffer throughout in guilt. Pankhuri sits and cries asking for forgiveness. She says she knows she did big mistake and she will leave forever. Sumeet also requests everyone again to forgive Pankhuri. Priyanka picks Pankhuri up from floor. Pankhuri goes to Sarthak and apologizes to him again. Sumeet gives her hand in Sarthak's hand and the latter smilingly accepts it. Mr Amani reaches there with media reporters who question Shlok whom they he wants to give credit for his success.
Shlok tells media reason behind his success is his wife Sumeet and compliments her. Raj says its proved that Meet is present in Sumeet as just like her she accepts pain to give happiness to others. Raj says Sumeet and Meet are each other's shadow. All of them applaud for Sumeet. Raj and Shlok picks her up and cheer for her. Chanda Ve, Sumeet and Shlok's new album gets launched. The episode ends with Shlok singing and his whole family dancing together while Sumeet plays the dhol.
Also See: