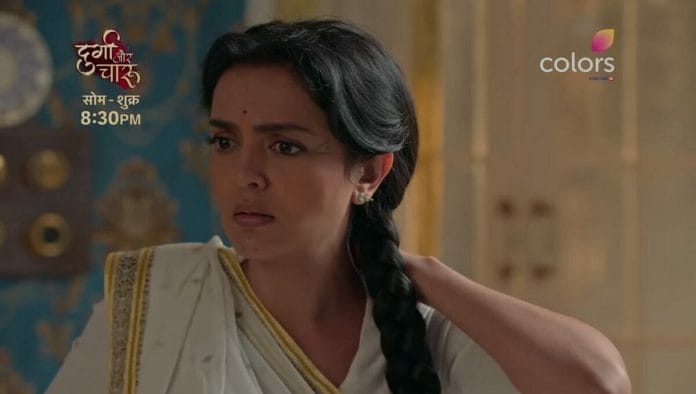 Durga Aur Charu Spoilers, Upcoming Story, Latest Gossip , Future Story, Latest News and Upcoming Twist on tellyexpress.com

Aurra Bhatnagar and Vaishnavi Prajapati starrer Colors TV show Durga Aur Charu never failed to engage audience with its gripping storyline. This is the story of two sisters who got separated after their parents Anirudh and Bondita's death. Those sisters grow in two completely different households.
Now, Durga and Charu meets after 5 years and they gets close without knowing that they are sisters. Charu and Durga trying to find Baanke's truth so it will be interesting to watch that what going to happen in the future episode.
Earlier it's seen that, Chaturbhuj made Polash unconscious and he attacked the kidnappers. Durga also beat kidnappers. Chumki lost her consciousness. Police officer brought Durga and Chumki to the palace. He told Binoy that Durga saved Chumki and Polash lost his consciousness.
Doctor treated Chumki and said that she is in trauma so she need rest. Bholi wondered that how Durga attacked the kidnappers. Chaturbhuj told her that Durga claimed that Chumki told her about Baanke's truth.
Later, Durga told Charu to win Bholi's trust. Charu got worried that Chumki may tell the truth to Bholi after regaining her consciousness and their plan will be flopped if that happened then.
In the upcoming episode, Binoy will decide to donate gold coins on Chumki's name and he will give those gold coins to Bholi. Bholi will hide original gold coins and plan to donate duplicate coins to poor.
Charu and Durga will learn about Bholi and Polash's partnership. Durga will try to find the original gold coins which Bholi hided. Chaturbhuj will try to stop Bholi from entering her room.
Will Durga find original gold coins? Will Bholi see Durga in her room?
All these questions will be answered in the upcoming episodes.
To know what will happen next in your favourite show Durga Aur Charu, stay tuned to this space.