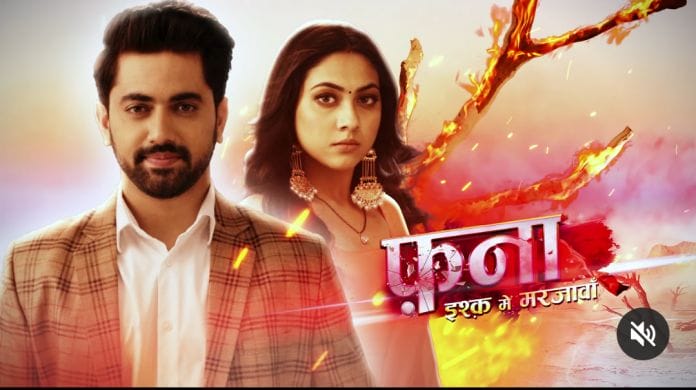 Fanaa Ishq Mein Marjawan 30th June 2022 Written Update on TellyExpress.com
The episode starts with Sameer apologizing to Agastya for doubting him. Agastya says that it's fine. Just Pakhi arrives. She recalls saying to her unborn child that she can't trust her/his dad again. Pakhi takes Agastya apart to talk.
Agastya says to Pakhi that she doesn't need to worry that she couldn't catch Shanaya's attacker. His private investigator Anand caught him and took him to the police. Police will find out the culprit. He says that the goon blamed him after getting caught. He swears to kill the person who is responsible when they will find who he is.
He assures Pakhi that everything will be fine after they find that person. Pakhi recalls Agastya asking the goon to not blame him. Agastya asks what Pakhi wanted to tell him. He requests her to say. As Pakhi is silent, he says that it's fine, she can tell him evening when he will come to take her. He is about to kiss Pakhi. The latter moves away and says that she won't come with him. Agastya asks what she means. Pakhi says that doesn't need to come, Sameer will drop her off.
Agastya feels relieved. Pakhi is surprised when she sees that Agastya still have her saree's cloth that torn up while she asked him to leave. Agastya says that only few hours left for evening then he will never let her go away from him. Agastya's foot slip and hecis about to fall. Pakhi holds his hand. Agastya happily leaves saying that he will be waiting for her. Pakhi closes the door and cries.
Dadi prays to God to clear misunderstanding between Agastya and Pakhi. Naveli asks Dafi where Agastya is, if he has gone to meet Pakhi. Dadi says that yes he has gone to tell Pakhi what had happened in the hospital. Neveli asks if everything will be fine between Agastya and Pakhi. Dadi hopes that it will. They get shocked when Goddess' churni catches fire. Dadi says that it's a bad omen and worries what is going to happen.
Agastya comes to Pakhi. He argues with Pakhi for hiding her pregnancy from him. He says that she wanted to leave without telling him this. He says that he has to keep an eye on her all time like before. Pakhi warns him to not think like that as she's an human and not any bird to cage her.
Agastya says that he cares for his child and wants best for his. Pakhi says that Agastya didn't understand love isn't capturing anyone. She refuses to stay in his cage anymore and doesn't want him to raise her child. Agastya warns her to not try to go away from him else. Sameer calls out Pakhi and asks if Agastya left. Pakhi realises that it's all her hallucination.
Other hand Agastya is happily waiting to welcome Pakhi. Dadi asks Agastya if he cleared about Shanaya's matter with Pakhi. Agastya says that he cleared everything with Pakhi and says there's no misunderstanding between them.
He says that Pakhi trusts him and his love. He says that he wishes to have a family with Pakhi, have kids and give them all happiness of the world that he missed in his childhood. Dadi says that Agastya will be a good father and hopes that Pakhi soon give them this good news.
Pakhi receives call from diagnostic center. The nurse from the diagnostic center calls Agastya as Pakhi didn't receive the call. The nurse says that Pakhi did some tests here. Agastya asks what tests. The nurse says that she is pregnant Agastya fails to hear this as his phone battery gets low. He asks the nurse to repeat again.
The nurse receives Pakhi's call so she disconnects the call. Dadi asks Agastya what happened. Agastya says that Pakhi did some tests. Dadi says that she fainted so she might have done. She says that they should take care of Pakhi after she returns home. Agastya is waiting for Pakhi to return home.
The episode ends.
Click to read