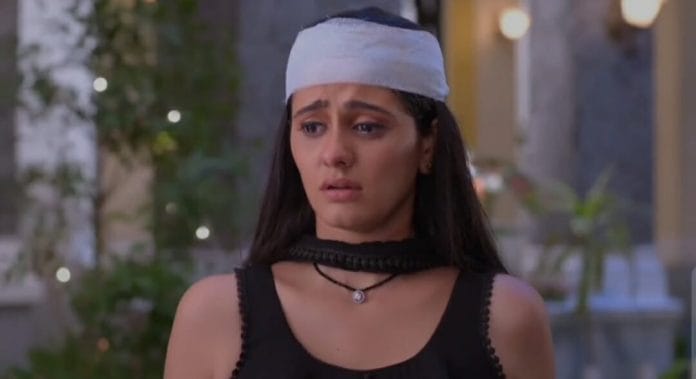 Ghum Hai Kisikey Pyaar Mein Spoilers, Upcoming Story, Latest Gossip , Future Story, Latest News and Upcoming Twist on tellyexpress.com

Star Plus popular daily soap Ghum Hai Kise Key Pyaar Meiin is all set to serve the audiences with a high voltage drama, along with the ongoing plot. Previously, Sai accused Pakhi to manipulate Geeta and Yogesh against surrogacy and denies to accept her as the surrogate. Whereas, Geeta got fooled by Pakhi and denies to identify her in front of Bhavani and Virat.
In the current track, Bhavani takes a stand for Pakhi against Sai and prohibits the latter from accusing Pakhi anymore. She scolds Sai for her behaviour, while Virat also shows his support towards Pakhi instead of Sai. She gets hurt by them, but still denies to believe Pakhi.
Here, Pakhi starts acting to be innocent and tries to take advantage of her pregnancy. Sai determines to expose Pakhi in front of everyone and gets angry with Virat for not supporting her. He tries to explain his perspective but she ignores him.
Bhavani returns back to Chavans residence along with Sai, Virat and Pakhi. They reveals about the matter and everyone gets shocked learning about Pakhi's pregnancy. Bhavani warns them to look after Pakhi and ask not to disturb or trouble her.
Ahead, Sonali and Karishma enjoys the drama and concludes that something must have happened in the hospital. Meanwhile, Sai shows her denial to accept Pakhi as the surrogate and goes back tk her room. Whereas, Ashwini gets concerned for her.
Virat tries to convince Sai and says that they must have to focus on their child. He shows his happiness of having their own baby, while she goes away ignoring him. He gets hurt by her behaviour, while Ashwini goes towards Sai to console her.
Later, Sak shares her tension with Ashwini, while the latter calms her. Meanwhile, Vaishali shows her worry to get exposed but Pakhi ask her to relax and assures that no one can bring her truth out. Ashwini tells Sai that her anger can hurt the child, while the latter gets worried.
Now in the upcoming episode, Ashwini along with other family members of Chavans will show their concern towards Pakhi. The latter will mock that even Ashwini started caring for her after the surrogacy procedure, but Sai still doesn't trust her. Whereas, at that time Sai will come there and stands in front of Pakhi.
She will keep staring at her, while everyone will get confused by her behaviour. Bhavani will gets frustrated with Sai and questions her for staring at Pakhi, but the latter stays silent.
Will Sai accept Pakhi as her surrogate?
Will Pakhi gets successful in her ploy?
It would be interesting to see what happens next on the show.
Stay tuned with us for more news, Spoilers and written updates of Ghum Hai Kise Key Pyaar Meiin.