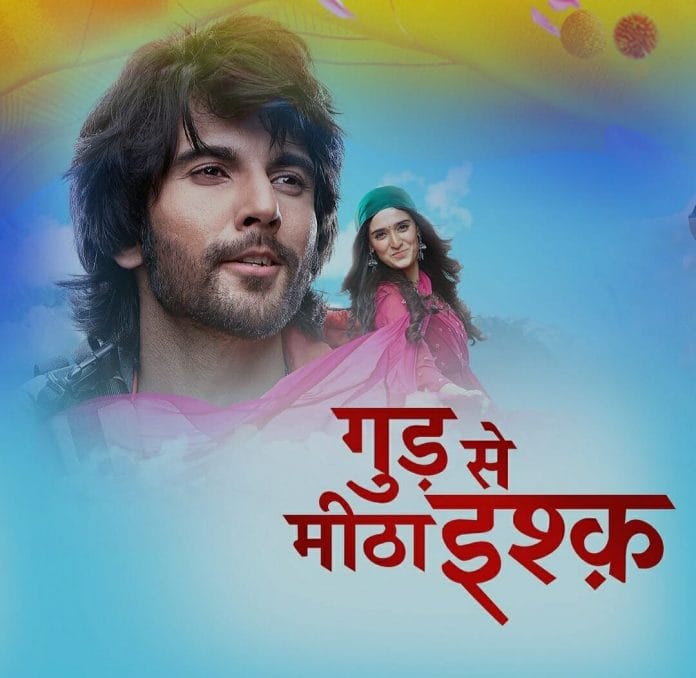 Gud Se Meetha Ishq 27th September 2022 Written Update on TellyExpress.com
In today's episode, Kajal tries to defend herself saying that she didn't do anything intentionally aa she thought it just a piece of paper. Neel lashes out at her for not understanding the difference between a normal paper and appointment letter. He indirectly calls Kajal uneducated and says that marrying her was the biggest mistake of his life. He gives her the paper and leaves angrily. Kajal cries while Pavitra smirks. Pavitra asks Kajal to not worry and says that she has an idea.
Kajal says that she can do anything for Neel. Kajal meets Pavitra's father who says that he will help Neel to get the job. Kajal thanks him for the help. He says that it's not any favour and asks Kajal to leave Neel as the price.He says that he knows it's not right but he can do anything for Pavitra. if Kajal divorce Neel, Pavitra will live happily with her. He asks Kajal to choose if she wants Neel's happiness and job or her and Neel's togetherness. He gives divorce papers to her to sign on it.
Pavitra meets her father and thanks him. He asks her to not mention about suicide hereafter. She says no as her happiness lies in Neel. Kajal gets emotional. On the other hand Pari sheds tears for Dev. They cry sitting on the same bench in a park. They see each other. Kajal asks Pari what is the matter with her. Paro says that Dev has changed after marriage, he lost all his happiness due to marrying her so she left home for Dev's happiness. She asks Kajal about her.
Kajal says that she has become the biggest problem in Neel's life and she doesn't deserve to be in his life. Pari says that their problem in similar. Kajal asks Pari to go home as it's not safe for her to stay outside. Pari says that she won't go anywhere and asks to keep her with Kajal. Kajal agrees and says that they have to go to somewhere for few days. Pari gets convinced. Before leaving they visit Khurana house.
Kajal asks Pari to reconsider her decision. Pari says no as she will will stay with Kajal only. They leave. Nimrit, Chandni plan to do party as Pari left home and not let Dev anything. Dev comes there. Nimrit says that they want to do party to celebrate Dev's success as he has checked a great deal. Chandi gives the sports calendar of Noor and asks him to attend her school on the sports day. She asks him to read the document carefully and sign on it. Dev agrees. Chandni asks him to take full responsibilities as Dev's father.
Dev and Noor have an heart to heart conversation when Noor makes juice for Dev and praises him for being the most loving father. Dev promises her to visit her school on the sports day. Dev enquires about Pari from Nimrit. Nimrit says that Pari is taking rest and asks him to not worry. Two visitors praise Kajal after checking Neel's exhibition. Neel misses Kajal and regrets for misbehaving with her earlier.
Precap – Neel questions Pavitra for trying to taking place of Kajal. Pari asks Kajal if she loves Neel. Kajal says yes.
In today's episode, Pari wakes up in the morning and fails to spot Dev beside her. She worries for Dev. She holds her chain that Dev gifted her earlier and misses him. A delivery guy brings a flower bouquet at Khurana house which Bhoomi recieves. She and Pavitra check the envelope attached with the bouquet and get shocked. They learn that Neel has become so famous overnight that he has a job offer now thanks to Kajal's home exhibition. Bhoomi calls Pavitra worthless for not doing anything significant. Kajal cleans the house, Bhoomi hides the letter seeing her. Kajal spots the bouquet and asks about it.
Bhoomi informs her that Neel's admirer has sent it with love. However she doesn't reveal anything about the job letter. Kajal gets overwhelmed and wishes to inform Neel immediately. Bhoomi asks her to wait for Neel to return home. She praises Kajal's way of cleaning the floor. She and Pavitra secretly drop the letter and envelope on the floor so that Kajal can throw those away while cleaning. Kajal does the same. However she gets doubtful seeing the envelope but doesn't understand it's importance. Dev enquires about Noor from Chandni. Chandni tells him that she has something important to discuss. She wishes to leave for her own house with Noor.
Pari secretly hears their conversation. Dev asks her the reason. She says that she has noticed changes in Noor's behaviour since last few days. She mentions about previous day's incident and worries for Noor. She says that Noor is unsafe with Pari, they can't stay together. She adds that she can't forgive Pari like Dev did. Dev says that Pari didn't do anything intentionally and she won't go near Noor hereafter. Chandni asks him if he can give her guarantee. She refuses to take any risk as Noor is her everything. She asks Dev to choose who will stay at Shergill house, Pari or Chandni, Noor. Dev tells Chandni that Pari will not go anywhere and asks her to do whatever she feels right.
Click to read