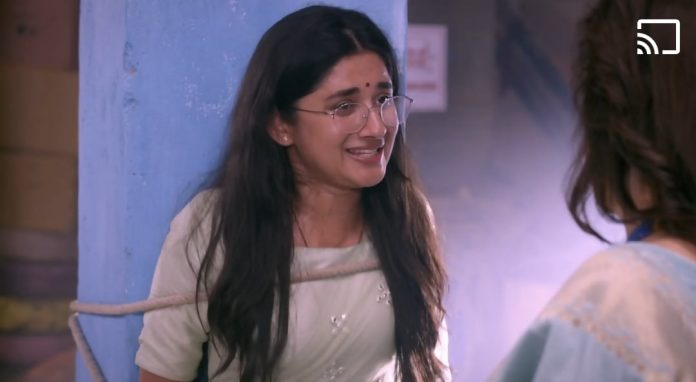 Guddan Tumse Na Ho Payega 18th December 2020 Written Update on TellyExpress.com
Episode begins with Agastya trying to locate Choti Guddan but he is unable to trace her yet. On another side, choti is sitting with her mother and she is trying her best to comfort her mother and says to her that you don't need to worry because this time I will not let anything happen to you. Senior Guddan says to her daughter, don't know why but today I feel that history is repeating itself after 20 years.
Things are happening in the same way how it happened back then. Choti notices that her mother is continuously coughing and she understands that her mother needs water. She is about to go out to look for wanted but her mother asked her not to do so. She says nothing will happen to her as she will be careful enough.
She goes out to look for water and is stepping out with extreme consciousness. Agastya is also roaming in the same area and is trying to find out his wife. Cheap things that I just shot them here then how come they just go disappear in a blink of an eye. Luckily, he got pieces of Choti's bangles and gets assured that she will be around only.
Aarav is getting worried for his sister when Aarushi comes and says to him that she doesn't need to worry so much because she is sure nothing can happen to her sister in law. Mani comes there and informs that the police officials told him when they are taking Agastya to the court, he saw guddan was running on the streets and some goons are chasing her.
Arnav listens to it and says that I knew something was wrong with my sister and he immediately goes away from there to save her sister along with Mani. Chhoti is missing August and hopes that if he was with her then they can be safe and she can take her mother safely to their house. At a point of time Choti notices Agastya and gets relieved to see that finally he is here.
She is about to call him when Pushpa comes from behind and takes her away when she is just a hand away from Agastya. Pushpa threatens Choti that if you want to call Agastya then notice one thing before it. Choti gets shocked to see that they have already captured her mother and is putting her inside a car.
They also put Choti inside a car as well and was about to drive away when Agastya gets to listen to the car start sound and runs but couldn't stop it. However, he gets his bangles and chains as a sign and understands this is her way to show him a path to herself. Niya is done with all the formalities in the police station and Sona leaves her and leaves for home.
Niya calls Pushpa and asks her where is she? Pushpa says I am sending you the location and you just reached there soon. Mani and Aarav are secretly following Niya as they assume that she is going to meet Choti only. Pushpa is burying Guddan inside the wall in front of Choti and she is pleading continuously to stop it.
Niya also reaches the spot and she said I will put the last block for the wall making. Choti notices Aarav and calls him for help and he comes and helps Guddan and also fights with the goons. Niya decided to kill Choti and her unborn child by hook or crook and she attempted for it too.
Click to read: